London's V&A museum to open gallery in China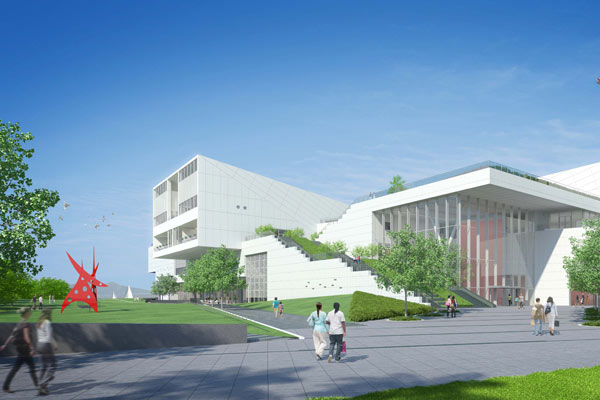 An artist's impression of the new hub that will be built in Shenzhen, Guangdong province. [Photo provided to China Daily]
Design Society, a new cultural hub featuring a Victoria and Albert Museum gallery, will open to the public in Shenzhen, in October.
The collaboration between the V&A and China Merchants Shekou Holdings is the first of its kind between a British museum and a Chinese partner-and will be located at the Sea World Culture and Arts Center in Shenzhen's Shekou port area.
The hub has been described as an open and collaborative platform that will connect China to the world and empower the interconnectivity between design and society, everyday life and industry.
Ole Bouman, director of Design Society, said:"Shenzhen has been widely recognized as a hotbed of Chinese creativity. In the past 36 years, it has allowed countless newcomers to apply their ingenuity to build a future, to literally design their life.
"By way of our pioneering collaboration with the V&A, this culture of aspiration now meets the richness of international design heritage and the curatorial intelligence of its current leadership."
The exhibition will display selected objects from the London museum's collection devoted to the 20th and 21st century, such as fashion, photography, furniture and graphic design, to illustrate the scope and diversity of modern and contemporary design around the world and its effect on people's lives.
Tim Reeve, acting director of the V&A, said: "For the V&A, this important international initiative represents a new way of engaging more deeply with China at a pivotal moment in its design history. It's a pioneering collaboration that will come to life when both Design Society and our new, dedicated V&A Gallery opens in October 2017."