Airline chief says UK dragging feet on China visas
Willie Walsh, chief executive of the International Airlines Group, has blasted the UK government for dragging its feet on introducing a new 10-year visa for Chinese visitors.
Walsh, who heads one of the world's largest multinational airline companies, including British Airways, Aer Lingus and Iberia, said: "The government needs to get its act together to make Britain attractive to the Chinese or we will continue to lose out on the economic benefits that they can bring to the UK."
In a recent news release he accused the UK government of going back on a promise, first delivered during Chinese President Xi Jinping's state visit in October 2015, to introduce a new 10-year multiple entry visa for Chinese visitors at no extra cost.
Philip Hammond, the then UK foreign secretary, announced with some fanfare during a subsequent visit to Beijing in January, that the UK had fulfilled a pledge to introduce a new two-year visa system that would enable visitors from China to make multiple trips to the UK for longer periods.
Hammond, now UK chancellor, said at the time: "In due course we would like to see this two-year visa extended to a 10-year multiple entry visa. That remains our aspiration and we will work with our Chinese partners towards it."
Walsh insisted the issue is time critical.
He said: "We need to ensure we can trade effectively post-Brexit."
Walsh noted that the UK export market to China was worth almost 13 billion pounds in 2015 and stressed that more needs to be done to encourage trade links with the world's second-largest economy.
He said: "The US already has a standard 10-year visa which costs around £100 while Britain's costs £800. The government needs to match its rhetoric on China with action."
Walsh earlier this year urged a relaxation of visa requirements after noting that it was much easier for Chinese tour groups to travel within mainland Europe with a so-called Schengen visa than it was to travel to the UK.
The UK Home Office told China Daily UK that it will first evaluate a pilot two-year multiple entry visit visa scheme, which began in January 2016, before considering a 10-year scheme.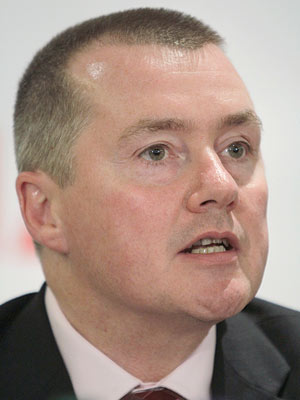 Willie Walsh, chief executive of the International Airlines Group