Italian PM Gentiloni's new cabinet sworn in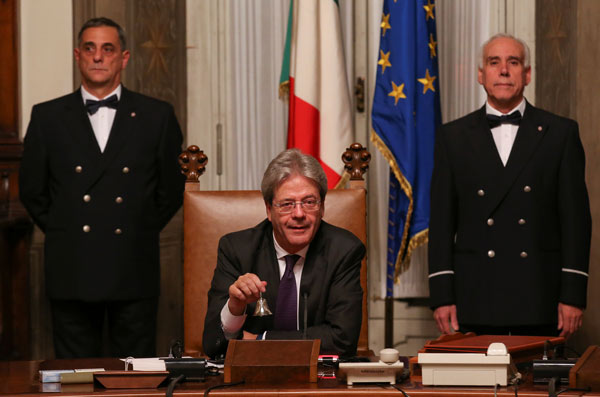 Newly appointed Italian Prime Minister Paolo Gentiloni rings the bell during his first cabinet meeting at Chigi Palace in Rome, Italy December 12, 2016. [Photo/Agencies]
ROME - The new Italian government formed by newly-appointed Prime Minister Paolo Gentiloni officially sworn in on Monday.
Gentiloni received the mandate from Italian President Sergio Mattarella to form a transitional government on Sunday, after former prime minister Matteo Renzi resigned on Dec. 7 for losing a crucial referendum.
Gentiloni is from the same party of Renzi, the center-left Democratic Party (PD), the largest political force in the parliament.
The new cabinet was sworn in at 8 pm local time.
Most key figures were confirmed in their office, including Economy Minister Pier Carlo Padoan, Defense Minister Roberta Pinotti, Justice Minister Andrea Orlando, Labor Minister Giuliano Poletti, and Minister of Economic Development Carlo Calenda.
Angelino Alfano -- outgoing interior minister -- has been named as foreign affairs minister, which was Gentiloni's previous office.
He will be replaced at the interior ministry by Marco Minniti from the center-left Democratic Party (PD), the largest force in the parliament and party to which Gentiloni and Renzi both belong.
The visible continuity with the previous center-left cabinet was meant to be a reassuring message for international and European observers, and for financial markets.
"As it is clear, the government will continue with the innovative action so far carried out by the cabinet led by Matteo Renzi," Gentiloni acknowledged.
"At the same time, it will strive to facilitate the parliamentary forces' task of identifying new rules for the electoral law."
Changing, or amending, the electoral system would in fact be a priority over the next months, in order to allow the country to eventually face early elections.