Italy's Renzi formally steps down, transition cabinet expected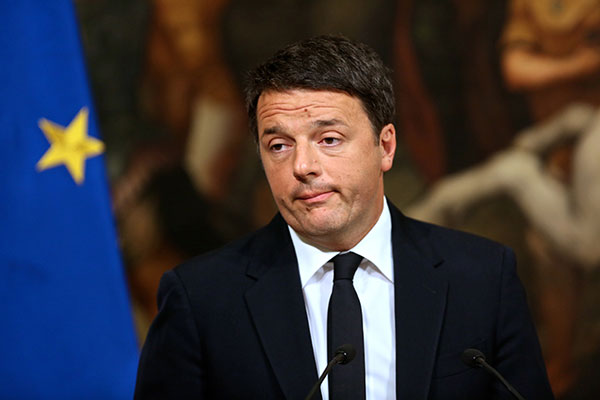 Italian Prime Minister Matteo Renzi speaks during a press conference in Rome Dec 5, 2016. Matteo Renzi on early Monday announced resignation, as exit polls showed the Sunday referendum opposed constitutional reforms. [Photo/Xinhua]
ROME - Italian Prime Minister Matteo Renzi formally resigned Wednesday evening but President Sergio Mattarella asked his cabinet stay in office for day-to-day administration before handing over to a transition government.
He formally handed in his resignation to Mattarella after the country's 2017 budget was approved in Senate.
Renzi's resignation came three days after he suffered a sounding defeat in a referendum on a cabinet-backed constitutional reform held on Sunday.
Renzi had already submitted his resignation on Monday, but was asked by the president to remain in office until the budget bill passed, which happened Wednesday afternoon.
The resignation now opened the way for the president to launch a round of talks with all party leaders in order to name a new prime minister, and form a transition government.
Renzi's cabinet would remain in office for handling the state's administrative affairs, while the president "will start consultations at 6 pm (1700 GMT)
on Thursday," Secretary General to the Presidency of the Republic Ugo Zampetti stated. The first round of talks is expected to end by Saturday.
Earlier in the afternoon, Renzi had gathered the leadership of his center-left Democratic Party(PD), which is the largest in parliament, to outline its political strategy for the government crisis.
"Our party does not fear democracy, nor vote. As such, if the other political forces want early elections, they just have to say it clearly," Renzi said, referring to the other parties calling for early elections.
He added the PD would also be open to a national unity government including all major parties, with the aim of overseeing a new electoral law, and the international appointments awaiting Italy in 2017.