Italian PM Gentiloni's new cabinet sworn in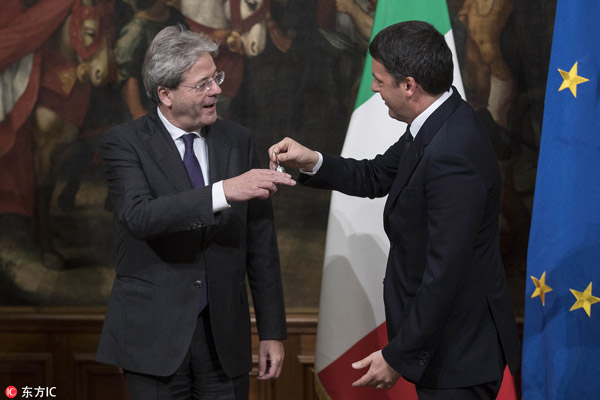 Former Italian Prime Minister Matteo Renzi congratulates new Prime Minister Paolo Gentiloni on his appointment at the Chigi Palace, Dec 12, 2016. [Photo/IC]
Currently, two different laws govern the election of the Senate and the Lower House of parliament, and the president has stressed they need to be "harmonized."
The legislature term ends in February 2018. Yet, all opposition forces have been pressing for snap elections since the cabinet-backed constitutional reform was rejected in the referendum, and a general vote might be called as early as spring 2017.
But before that, the new government will have to deal with some pressing issues at home and international level, including the financial crisis haunting Monte dei Paschi di Siena (MPS), the country's third largest bank.
Other priorities are the reconstruction in quake-hit central region, a still weak economic recovery, and high unemployment.
"The country is back on its feet again," Gentiloni said in his address."Yet, we cannot neglect the various form of discomfort, especially among the most vulnerable sections of the society and in south Italy, where unemployment is a more dramatic emergency than elsewhere."
The new government will ask for a confidence vote in both the senate and the lower house within the week.
But opposition Five Star Movement (M5S) and Northern League have both voiced boycott to the parliamentary vote, saying the new cabinet has no legitimacy.
Nonetheless, the cabinet is still expected to receive the confidence from the parliament, counting on a solid majority.