Contest seeks nation's most fanatical fan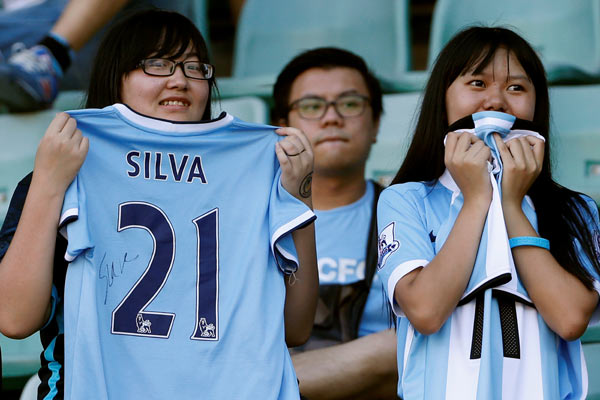 Chinese fans watch Manchester City training during International Champions Cup China held in Shenzhen, Guangdong province, July 27, 2016. [Photo/Agencies]
VisitBritain, the UK's tourism agency, has teamed up with Chinese media organization Super Sports Media Group to find China's most fanatical English Premier League fan, who will win a trip to the UK to watch a soccer match.
The competition calls for fans across China to send in short videos showing what makes them the league's biggest fan. Entries can be submitted via Chinese social media platform Sina Weibo from Thursday to Jan 15.
A Super Sports broadcast crew will follow the winner on the trip to Britain in March.
VisitBritain's marketing director Robin Johnson said: "The Premier League has mass international appeal and a global fan base of billions and we know that people like to visit the home of their sporting heroes."
Wolfgang Arlt, director of the German-based consultancy China Outbound Tourism Research Institute, said the initiative is another example of how to connect soccer fans in China, where there is official support for the development of the game, with tourism marketing.
He said: "Such campaigns cost less than big billboards in Chinese cities but are more effective."
Alastair Morrison, former president of the International Tourism Studies Association and CEO of Belle Tourism International Consulting based in Shanghai, said only one fan will win the prize, but thousands are expected to enter, and the exposure will be a boost to British tourism.
As part of the promotion, VisitBritain's Football is GREAT television commercial will air on the Super Sports network during the Premier League season. A separate film will showcase some of Britain's top soccer venues.
Super Sports has also produced videos featuring Premier League player Wes Morgan of Leicester City and former Arsenal player Perry Groves, as well as Chinese stars, including former Manchester City defender Sun Jihai, who was the first Chinese player to score in the Premier League.
James Kennell, principal lecturer in tourism at the University of Greenwich, said the campaign presents a huge opportunity for increasing soccer tourism.
"The competition will raise awareness of football-based holidays and inspire other tourists from China to visit the UK to see their favorite team," he said.
Premier League football is one of Britain's most successful exports with millions of fans globally.
More than 800,000 visitors from abroad attended Premier League matches in 2014 during which they spent more than 684 million pounds, highlighting the value of soccer tourism to the UK economy.