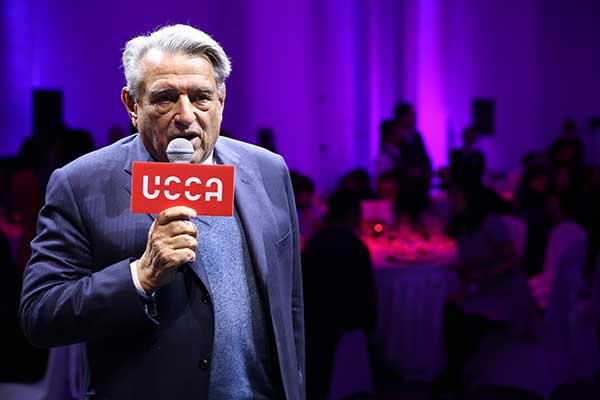 Guy Ullens, who is known for his collection of contemporary Chinese art, is to give up his eponymous Beijing gallery.[Photo provided to China Daily]
UCCA, a nonprofit that he funds through the Guy and Myriam Ullens Foundation, encompasses three factory buildings of the 1950s. It has received some 4 million visitors since the opening. News of Ullens' intention to sell UCCA has emerged since 2009, amid speculation that his family business was affected by the financial crisis beginning in the United States in 2008.
He cashed in by selling collected art in bulk at auctions: a Beijing sale of his collection of classical Chinese paintings in 2009 grossed 288 million yuan ($43.64 million); he sold an oil painting of Zhang Xiaogang for HK$79 million ($9 million) in 2011; and a Zeng Fan-zhi canvas for HK$180 million in 2013.
At the time Ullens denied he would also sell UCCA, explaining that he sold his collection because his age prohibited him from frequent travels to China and his children showed little interest in art. And now, the news of his likely renouncement of UCCA isn't a surprise in Chinese art circles.
"The Ullens are after all aged, and it (UCCA) is not a family business that can be inherited. It's not their duty or obligation to stay on," says Tang Xin, director of Beijing-based Taikang Space.
Li Suqiao, a critic in the Chinese art market, says: "Thanks to Guy Ullens' persistence ... He has shown enough kindness by supporting the center with 10 percent of the profits from selling his collection."
People are wondering who will take over UCCA's management, a mature Chinese private art museum but now also a hot potato. The center doesn't profit from representing artists like art galleries do, nor can it gain from selling or loaning collections - it has no collection of its own and shares no connection with Ullens' collection.