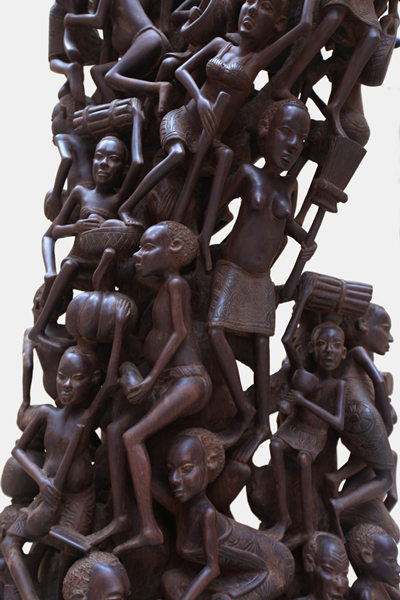 Makonde carving uses African ebony and draws inspirations from Tanzanian tribal myths and stories. It features of a modern response to contemporary life. Photo provided to China Daily.
A Beijing couple are on a mission to make Chinese more familiar with the brilliant Makonde woodcarvings. Liu Lu reports.
In Songzhuang, Beijing's biggest artist community in the eastern suburbs of the city, there is a special art center that stands out from the other galleries because of its exotic artworks.
Bright blue walls surround the center. After walking past a construction site, the view suddenly brightens, with numerous exquisite woodcarvings scattered around a large space. Their colors, lines and contours reflect a faint glow from the lamplight, creating an artistic world full of mystery.
The owners of the center are a retired Chinese couple, 72-year-old Li Songshan and his 69-year-old wife Han Rong. Building such a gallery was the realization of a long-held dream for the two elderly people.
With 13 buildings covering 1,000 square meters, the center, which is called African Tribe, has hundreds of Makonde carvings the couple have brought back from Africa over the past 30 years. It will be completed and open to the public in May, and will be the first privately owned non-profit organization in China dedicated to promoting African culture.
"Our purpose in building this African culture center is to promote African culture and art in China, and to build a platform for China-Africa cultural exchanges," Li says.
"As far as I know, in recent decades, Chinese people have expanded their activities from trade and investment to cultural exchanges in more and more African countries, helping African people gradually learn more about China and its people.
"But the exchange is not equal. In contrast, opportunities for Chinese people to learn about Africa are relatively rare. People in China don't know much about African culture and art. I hope we can do something to correct this by opening this African cultural center in Beijing, China's culture capital."
The couple says they started working in Africa in the early 1970s and became obsessed with Makonde sculptures, as they thought those imaginative carvings were endowed with a sense of optimism that only African people possess.
"Each work is unique," Han says. "There are no two the same, and it's impossible to copy them. Makonde art is the most representative output from Africa in the art scene."
She says Makonde carving is probably the best-known art produced in Tanzania, where the Makonde people create delicate carvings in African ebony. The local craftsmen use their tribal myths and stories as inspiration for the pieces, but the carvings also feature a modern response to contemporary life.
"Not many people have heard of Makonde art, but people may look at it with new eyes once they learn that many of the great modern artists in Europe saw it as a new art language. Even Pablo Picasso drew inspiration from it. Those sculptures have greatly influenced international modern art."