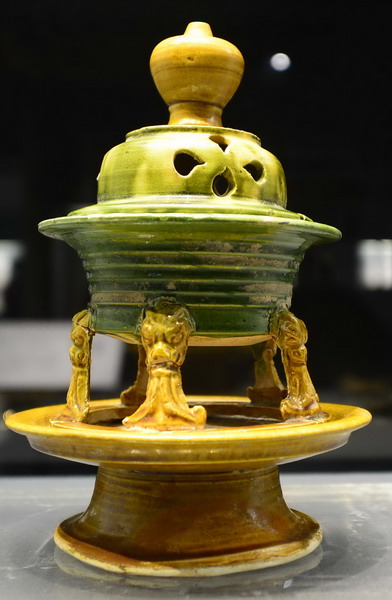 A porcelain incense burner from the Tang Dynasty (AD 618-907) is on display at the Shandong Museum. Ju Chuanjiang / China Daily
The exhibition is a feast for both the eyes and the nose. A pleasant fragrance fills the exhibition hall.
On show are 58 pieces of premium agarwood produced in Vietnam, Indonesia and Hainan in China, as well as 180 incense tools ranging from the Warring States Period (475-221 BC) to the Qing Dynasty (1644-1911).
Agarwood is a kind of resinous heartwood formed in Aquilaria trees which are native to Southeast Asia.
When Aquilaria trees get infected, the trees produce dark aromatic resin to suppress fungal growth, which will finally develop into resin-embedded agarwood.
"The agarwood is a complex of resin, glue and wood," says Huang Yi, curator of the Tianjin Agarwood Museum.
The agarwood can also be produced by external forces, Huang adds.
IF YOU GO
9 am5 pm, daily except Mondays until June 30. ShandongMuseum, 11899 Jingshi Donglu, Jinan, Shandong province. Free admission.