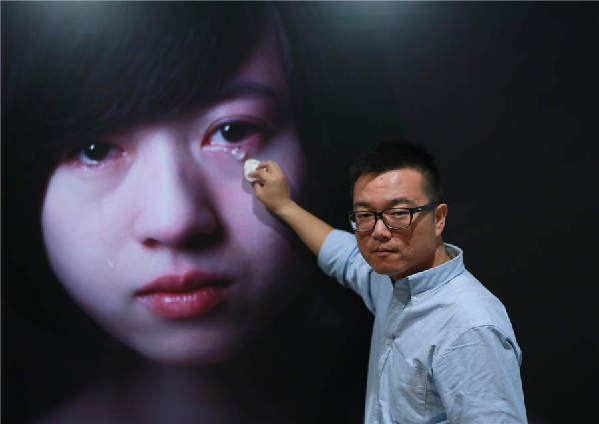 "Although shooting weeping girls cost me a lot of time and made me exhausted, at the same time it was a very sacred creation for me," Hsu Shengyuan says. Zou Hong / China Daily
For more photos, here
Taiwan photographer Hsu Shengyuan tells a story in images of the pain behind women's tears and the trust between model and lensman. Chen Nan reports.
Three years ago, while pursuing his studies in the United Kingdom, Taiwan photographer Hsu Shengyuan watched a silent video in class, I'm Too Sad to Tell You, by Dutch conceptual artist Bas Jan Ader. He was struck by the video, which consists of the artist crying in front of a camera.
"The video is silent and simple but it's powerful, and touches my heart," Hsu says.
"It's one of Ader's most popular works, made in 1970. Though he passed away a long time ago (in 1975, at age 33), his video is still seen by people today and touches us."
That's when the obsession started. After gaining his master's degree in photography from the University for the Creative Arts, he returned to Taiwan and launched a project called Crying Girls.
During the past three years, he has photographed more than 300 weeping girls aged between 20 and 35 from Hong Kong, Taiwan, Beijing and Shanghai. Now Hsu is in Beijing to unveil a photo exhibition titled Crying Girls at Beijing's Today Art Museum as part of his Asian tour exhibition.
"Crying is one of the most private emotions of a human being. I want to explore and discuss the ambiguous relationship between the photographer and the person in the photo through the project," says Hsu, 31. "I want people, both those in the photos and those who are watching the photos, to feel connected and real."
The beginning was hard. Hsu recalls that he called for volunteers online but got few responses. Though he gave detailed elaboration about his project, most people still couldn't understand his idea.
"There were many times that the girls changed their minds the day before the shoot, which was really disappointing," Hsu recalls.