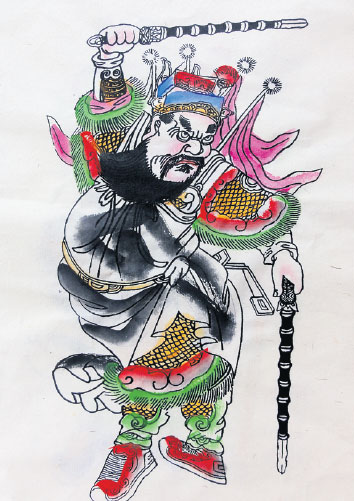 The door guardian is a traditional subject for Mianzhu block prints.
Shejiantai village's Mianzhu Nanhuagong Lunar New Year Block Print Develoment Center has cooperated with a porcelain company in Jiangxi province's Jingdezhen to make porcelain ware with images popular in prints, says Li Jiao, the 26-year-old villager and print artist who became general manager of the center. She started dealing in prints six years ago.
The magnitude-8.0 Wenchuan earthquake on May 12, 2008, destroyed one-third of the houses in Shejiantai, which is known as "China's Lunar New Year Painting village". About 30 printmakers were unscathed.
The village has been reconstructed as a picture-perfect tourist attraction, where block print images adorn the 2,700 houses' exteriors.
The houses are built in traditional style with areas ranging from 200 to 400 square meters, village chief Xu Shipeng says.
The quake also damaged the Mianzhu Lunar New Year Block Print Museum, built with 5 million yuan ($819,672) in 1995. It's the only print museum aside from a smaller one in Yangliuqing.
Most exhibits survived and have moved to the new museum constructed after the disaster.
They include the most famous print Ushering in Spring made by Huang Ruihong (1865-1938) in the Qing Dynasty for local dye merchant Huang Gaozi.
The print depicts 460 people celebrating Spring Festival - officials, farmers pushing carts and women dangling fish.
Huang later sent the print to his accountant whose son sent it to the Sichuan Academy of Art in Chongqing in 1979 to seek a buyer. But prints weren't popular then.
Hou, the former museum curator, was studying at the academy and bought it for 80 yuan.
Today it is a priceless State-level cultural relic enjoying first-class protection that's hailed as Sichuan's version of the Riverside Scene at Qingming Festival - an ancient painting featuring more than 500 people created by Zhang Zeduan (1085-1145) that's among the country's most famous ancient artworks.