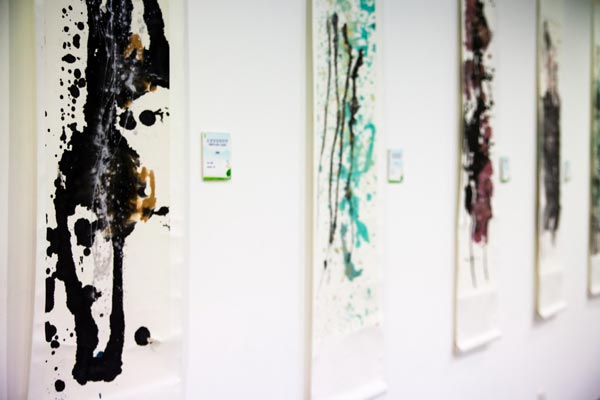 The abstract water-and-ink paintings are drawn by autistic children from the Shanghai Qingcongquan Training Center. [Photo by Cui Haobin / For China Daily]
An exhibition combining public art, the practice of non-governmental organizations and innovative designs is making its debut in Shanghai Gongyi Xintiandi Park, a newly opened hub for the city's NGOs and social enterprises.
Here, warm-hearted visitors with a mind for social welfare can see a wide range of art works by the mentally or physically impaired, or special-needs groups, grassroots NGOs and renowned artists.
Dozens of water-and-ink paintings drawn by autistic children from the Shanghai Qingcongquan Training Center - an NGO dedicated to helping the group live independently and become integrated into society - hang in a large hall. Visitors can glimpse the inner hearts of these children through the abstract drawings.
The World of Art Brut Culture, an NGO that helps the intellectually impaired develop their artistic potential through training programs, presents furniture co-designed by those with special needs and famous artists.
"We hope to make the public more responsive to the amazing artistic gifts of the group through the exhibition and get rid of prejudice against them," says Miao Shiming, an artist and founder of the organization.
There are also more than 70 movie disks for the visually impaired. Volunteers added voice-overs, sign language and subtitles for ordinary movies so that the hearing or visually impaired can enjoy them. The hearing or visually impaired can borrow them from the city's public libraries. The charity project that began in Shanghai in 2009 has been widely praised.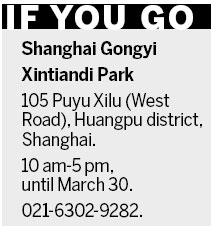 Artist Xu Yuan was invited to create fabrics and ceramic works for the visually impaired. The ceramic faces have exaggerated eyes, noses and mouths so the visually impaired can feel them more easily.
"Unlike in the past when charitable organizations tended to donate money to those with special needs, they now use art as a means to improve their welfare and help them live independently," says Zhu Xueqiong, a spokeswoman of the park.
The 23,000-square-meter park is a beautiful spot with plenty of trees and grass.
Visitors can explore the park with the help of a "plant map" that records the categories and distribution of plants in the park. The map was drawn by volunteers of Helin Art In Community, an NGO promoting the concept of sustainable communities in the way of exploring natural art.