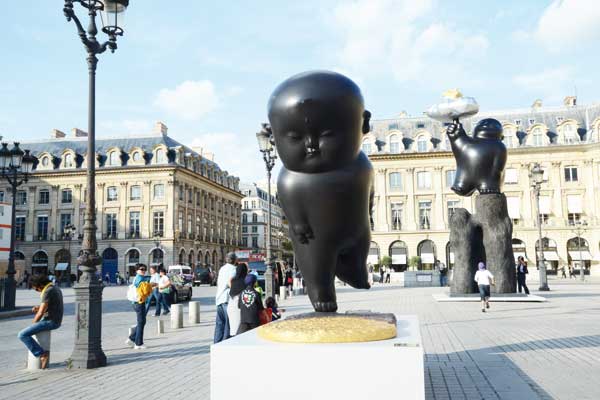 The outdoor Paris axhibition has raised awareness of Li's works and will tour other European cities next year. Photos Provided to China Daily
A Paris exhibition proves Li Chen is emerging on the global scene as a leading sculptor, Mariella Radaelli reports.
The 12 huge bronze sculptures on show at the Place Vendome in central Paris have received enthusiastic public approval.
Viewers, it seems, can sense the "monumental levity" of these impressive works, which the Chinese artist Li Chen produced from 1998 to 2010. They are materially heavy, yet visually light. Levity, quiescence and comfort are words that are automatically associated with Li's works.
The Paris exhibition has raised awareness of Li's art. This outdoor event, his second solo show in Europe after the 2007 Venice Biennale, will tour other European cities next year. Bordeaux's Place de la Bourse will be the next venue, while several German and Italian cities are also planning to stage the show.
Li's art is the singular result of the power of solitude. The sculptor lives in Shanghai, but often retreats to the stillness of the Chinese mountains.
"And I also have my studio in Shanghai, but I rarely go outside," he says. "I enjoy time on my own, taking a walk in the mountains or drinking tea ... I have chosen to spend my life in solitude. My quest is to find a spiritual space through my work, a space of one's own."
His Paris exhibition conveys the impression that Li brings a transcendental perspective to the mundane.
"I have a simple life and not many friends," he says. "Therefore, a certain aspect of my life is alienated from society. But it is impossible to separate myself completely from reality. My art is to do with intimate, personal thoughts and feelings."
Profound meanings creep into his works, as if they have a mind of their own.
"As The Butterfly Lovers in the East and Romeo and Juliet in the West are fictional stories meant to mirror human emotions and desires, not to tell a true story. The purpose of my work is to connect with viewers on a spiritual level through shared emotions," Li says.