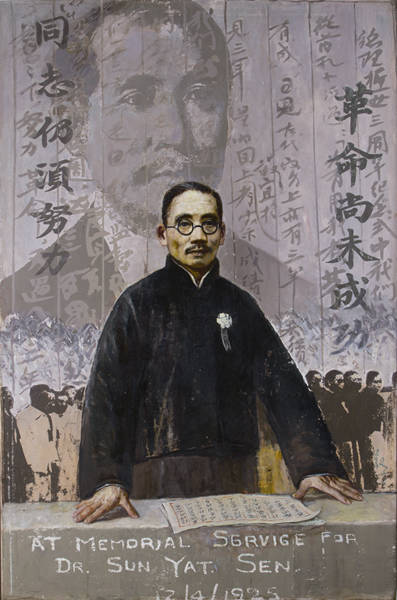 A portrait of Chinese revolutionary leader Sun Yat-sen, created by veteran oil painter Song Ren. Photo provided to China Daily
The first expat-run gallery in Hangzhou just announced its opening with the exhibition of Song Ren.
Rather than sitting on the side of the renowned West Lake, HDM Gallery has found its home on the 12th floor of a new office building on the outskirts of the city, at Hiwell Mansion, 101 Binkang Road.
"Quite some artists live near this area, so we chose this location, to be close to art, rather than tourists," says Olivier Hervet, director of the gallery.
HDM Gallery started in Beijing four years ago. It's named after the initials of one of its founders Hadrien de Montferrand from France.
HDM Gallery in Beijing's 798 art district majors in contemporary works on paper. But for its debut exhibition in Hangzhou, the gallery chose to present Song, a female painter of the traditional realistic style.
Song, 81, is a portrait artist, who has done many paintings of national heroes, leaders and modern role models. Her husband Xiao Feng used to be director of the China Academy of Art, and some of their creations are among the collection at the National Art Museum of China in Beijing.
"I have been painting premier Zhou for 28 years but have never been satisfied with the work," Song says at the opening of her show. A shy and quiet person, Song has seldom put on solo exhibitions.
She and her husband have two daughters: Xiao Lu and Xiao Ge, who are also artists.
"Artists of our generation have different ideas from nowadays. We feel obliged to serve the people," she says. Even though she and her husband didn't always agree with their daughters' ideas, she was glad to see them remain true to their feelings and expressions.
On exhibition are her portraits of Chinese revolutionary leader Sun Yat-sen and US journalist Agnes Smedley, who witnessed and wrote about China's fight against Japanese invaders and the rise of the Communist Party in the 1930s-40s.
Song and her husband are both in their 80s and still painting. "A peasant can't stop farming, and workers should always be working, so we go on painting and take great pleasure in it," she says.
HDM Gallery has chosen to present Song for their opening show because "she represents the academic tradition", says Hervet. Hopefully the new gallery will move on to showcase modern and contemporary art in Hangzhou, where the China Academy of Art is located.
"We want to find a new cluster of artists here," Hervet says.
And Hangzhou has plenty of potential clients, too.
The city has a strong tradition and culture of art appreciation, he believes. So far the interest is limited to classical Chinese art, such as ink paintings and calligraphy. Hervet believes that will change, as people exposed to more diverse styles learn to appreciate contemporary art.
If you go
Song Ren: works between 1982-2012
HDM Gallery,
Room 1208,
Hiwell Mansion,
101 Binkang Road,
Binjiang District, Hangzhou, Zhejiang province,
9 am-6 pm, till Jan 15, 2014,
0188-5786-7197