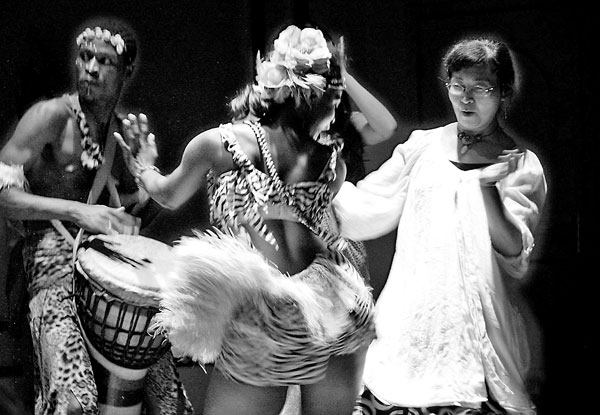 A favorite theme of Njoku's photos is Chinese people experiencing traditional African dance and music. Ajike "Saint Jerry" Njoku / For China Daily
Ajike "Saint Jerry" Njoku says he wants to reveal the largely untold journey that African immigrants have undertaken in China over the past decade.
When the 37-year-old Nigerian artist arrived in Beijing five years ago, he says he felt constrained by an erroneous stereotype: Africans were just out to make a buck any which way they could.
"The story of Africa in China is all hustle and bustle. This exhibition is a different view of Africans in China," he says, where they have studied and worked, made lives and homes.
Njoku's work is part of a groundbreaking exhibition opening on Nov 22 in Beijing that documents through paintings, drawings and photographs the experiences of Africans living in China.
In 2009, after his work was featured in China's renowned Pingyao Photo Festival, Njoku began publishing Lens Afrika, a magazine that aims to tell the African story in the world's second-largest economy.
"China thinks it knows Africa, but it does not know Africa," he says. "Africa thinks it knows China, but it does not know China."
Like Njoku, Congolese painter Theodore Akonga strongly believes art is a way for China and Africa to see each other from different perspectives, to find common ground and to discover and relish differences.
Akonga came to China in 2003 after receiving a scholarship to study at the Central Academy of Fine Arts. He now has a studio space in Beijing and is close to completing a PhD.
"I draw on inspiration from Chinese characters," he says. In one piece, he infused the Chinese character for "door" (men) with a layer of meaning from Africa.
"In my country we have an expression - to do things the right way, you have to get in or out of the door, not the window."
Beijing artist Xie Fei, who has worked with Akonga in the past, is full of admiration for the African painter's tendency to blend different cultural elements in his work.
"It is evident Akonga's works have a strong African flavor, in the bold colors he uses," Xie says.
"But his work also combines African ethnic elements and Chinese elements in a way which I think is great. It makes the finished product modern and international."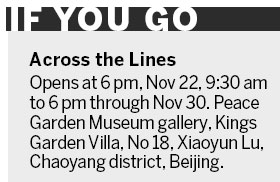 Njoku's lens, meanwhile, has captured Africans in China at work and play. In one series of studio shots, he explores the relationship between Africa and China using models and symbolism.
In one photograph, an African woman holds a beautiful Chinese baby - a reference to Njoku's resource-rich continent feeding China's industrial appetite and growth, and China giving something indefinable back to Africa.
Much of Njoku's photography features Chinese people being introduced to the wild and wonderful ways of traditional African dance and music. Sam Ahadu, an African immigrant turned Beijing music and arts promoter, has often found himself framed by Njoku's lens.
"When you bring cultures together, there's always misconceptions before everyone begins to appreciate each other's values and cultural attributes," says Ahadu.