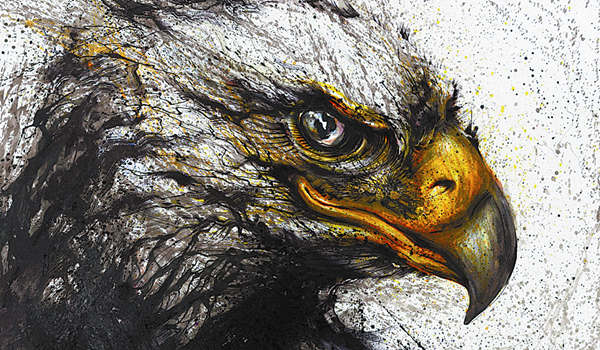 One of Chen Yingjie's graffiti works. Photo provided to China Daily
Chen Yingjie says he is the first person to combine Chinese wash-and-ink paintings with graffiti.
The 22-year-old now finds himself invited by international luxury brands to paint as a performance with clients including auto giants Subaru and Volvo, sportswear Adidas Originals, and French design house Louis Vuitton.
In a recent collaborative project with Adidas Originals, Chen created a piece of graffiti on a giant white wall of 8 by 4 meters. He held the paints in his hands, squeezed, and splashed them into the sky. The marks left on the wall became a breathtaking picture of water and mountains, in typical Chinese wash-and-ink style.
The campaign, named United All Originals, pinpoints some of the most creative street artists in the country, and Chen is the type of artist the company is looking for.
"I was a rebellious child when I was young. I skate-boarded, did graffiti and street dance," Chen says.
In high school, Chen painted graffiti under Dongping Bridge in his hometown Foshan city, Guangzhou province. The work, which took him four days, was a colorful Chinese dragon nearly 1 kilometer long. When visitors walked on the bridge or along the river, they would see a giant delicate dragon. No one knew its creator was a 19-year-old.
Chen continued his graffiti after being admitted to Raffles Design Institute in Singapore. One day he went to an exhibition at the National Museum of Singapore on the late Chinese wash-and-ink master Zhang Daqian.
"It suddenly occurred to me - why can't I combine graffiti and a Chinese way of drawing?" he says.
Chen says he was inspired by Zhang's skills of "splashing inks". There was one painting he remembers very clearly. It was Zhang's scenery painting, constructed by various dots, curving lines and large scales of black ink in different shades.
"Later, I became very fascinated with wash-and-ink paintings by masters like Zhang Daqian and Wu Guanzhong. I tried to study their skills," he says.