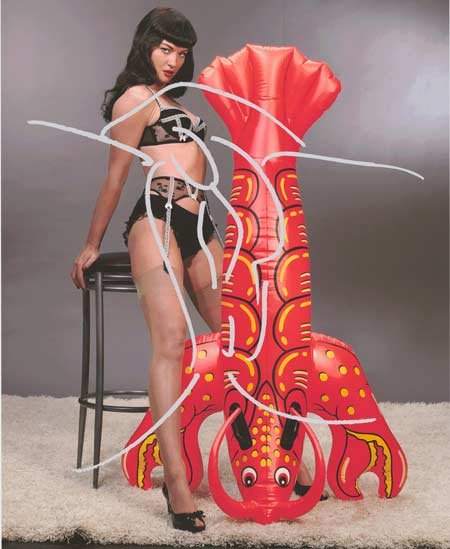 The Beijing Photo Biennial features masterpieces of western photographers like Jeff Koons' Red Lobster Girl. Provided to China Daily
Although there are already three large-scale photography festivals in three Chinese cities, the nation's capital unveiled its first Beijing Photo Biennial on Oct 24, with an emphasis on academic and photographic communication between East and West.
A major part of 2013 Beijing Photo Week, the photo biennial includes four parts: new photos since 2009, photos taken by Western photographers and directors, artists nominated by young curators and photos from collectors.
The theme of the biennial, "Aura & Post Aura", reflects the academic nature of the exhibition. Aura, a key word in German philosopher Walter Benjamin's artistic aesthetics system, differentiates classical art from modern art. The biennial is organized by the Art Museum of China Central Academy of Fine Arts.
Unlike the three well-known photo festivals held annually in Pingyao, Lijiang and Lianzhou, the Beijing Photo Biennial is dominated by contemporary art. Performance art and conceptual art are common in the photos on display.
The general standard of Chinese photographic exhibitions has not been very high compared to those in the West, says one of the curators, Cai Meng.
The biennial is a good chance to promote photography in China and set an example of what a high-level photo show should be, Cai says.
The curatorial team hopes to increase the influence of contemporary Chinese photography on the international stage and identify talented young Chinese photographers.
Photography as an art form has played an important role in the Western contemporary art world, enjoying the same value as videos, installations and performances. However, in China, it seems undervalued and even marginalized.
"Chinese photographers keep the same pace with their peers around the world in terms of skills and thoughts. Unfortunately, they're undervalued due to the immature art market and the lack of professional photo galleries in China," says Charles Jin, a Chinese-American who has been collecting photos for years.
Jin brings 66 artworks by influential Western photographers like Harry Callahan, Robert Mapplethorpe, Sally Mann and Jeff Koons to the collection at the biennial. Last year he presented a photo exhibition of more than 70 master photographers, aiming to give the Chinese public a new idea about what photography is.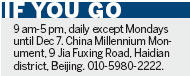 The collector says artworks of Chinese young photographers are priced very low; he bought 180 photos when he visited a photo festival in Yunnan province.
"Chinese artists need an effective channel to promote themselves on the international stage," says Jin, adding that low price does not mean low quality. Most of the young artists' photos are experimental images.
Bas Vroege, one of the curators of the photo biennial, says decades ago when he invited Chinese photographers to visit the Netherlands, all of them were from the China Photographers Association. Now he is glad to see many independent Chinese photographers take part in the photo biennial.