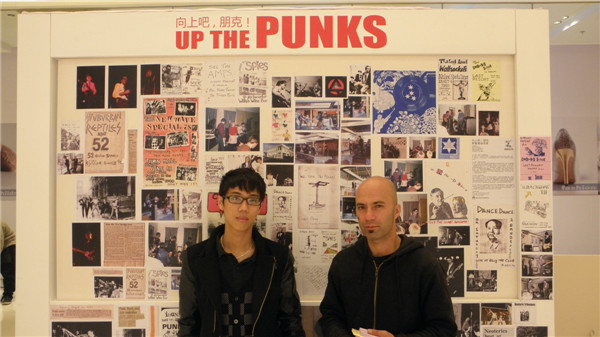 Xu Xiaoliang and John Lake(R) in front of the Up the Punks kiosk at Changing's BHG shopping mall. [Photo by Nigel Moffiet/chinadaily.com.cn]
A photo exhibition of punk rock music which started this month in Changying's BHG
shopping mall is helping bridge cultural gaps between
Beijing
and the world.
Up the Punks is a cultural exchange art project between Beijing and Wellington, New Zealand. The exhibition aims to highlight stories between the two cultures, with particular reference to the punk rock music scene.
The project's coordinator and professional photographer John Lake is visiting Beijing from Wellington. During his three month stay he will be attending gigs, taking photos, interviewing people, shooting videos and even drinking "a few pijius" as he gets a feel for the city.
"People in New Zealand don't hear a lot about any Chinese music and many Chinese don't know much about New Zealand other than it's where milk comes from," says Lake.