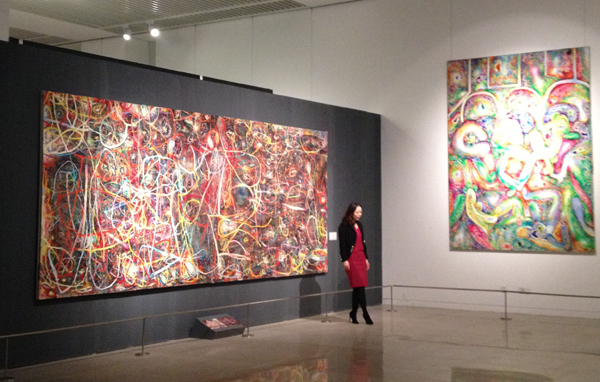 Xu Jianguo's art pieces are exhibited at the the National Museum of China. [Photo by Bi Nan/chinadaily.com.cn] For more Xu Jianguo's artwork, here
Have you ever imagined what the two sages Lao Tzu and Plato would talk about if they ever met one another? The Chinese-American artist Xu Jianguo has tried to find the answer through his painting.
The exhibition "Beyond Contemporary: The 50 years' Artistic Vision of Xu Jianguo" recently was unveiled at the National Museum of China, which showcases Xu's work throughout his entire artistic journey. The exhibition will last until October 29.
His latest creation The Harmony was unveiled to the public at the exhibit for the first time, demonstrating the artist's profound understanding of eastern and western culture.
"Born in China, and living here for 30 years before going to the US which he has also lived for some 30 years, he truly has a rich understanding of both cultures, and brings the two together for all the world to experience," Gary Locke, the US ambassador to China said at the exhibtion's opening ceremony.
In Xu's work The Harmony, the philosophers Lao Tzu (604-531 BC) from ancient China and Plato (427-347 BC) from ancient Greece, are brought together.
The two philosophers appear to be engaged in a discussion. The initiator of Chinese Taoism, Lao Tzu, holding an hourglass, smilingly sits on a stone covered with hay. He holds up two fingers, and looks as though he's about to say something. At his feet are a few western books, the sword of law, the scales of justice upon which sits a magpie. All of the the items appear to be gifts from Plato who stands beside him.
Plato is depicted standing by the sea, with a Chinese brush and a book in his hands, a compass and a celestial globe at his feet. The items could be gifts from Lao Tzu. Plato looks at Lao Tzu, seemingly inquiring about the implication behind "Tian Ren He Yi (oneness of man and nature)" on the book.
The Chinese title of the painting is "Datong (The Great Harmony)", which originally appeared in the Book of Rites, a core text of the Confucian canon. The ancient Chinese used this term to describe an ideal society which values trust and harmony. As an advocator for peace, Xu wants to say that people should communicate more in order to build a harmonious world.
For this work, Xu used three different artistic medium such as painting, multimedia and installation as a series to further demonstrate such concepts across time and geography.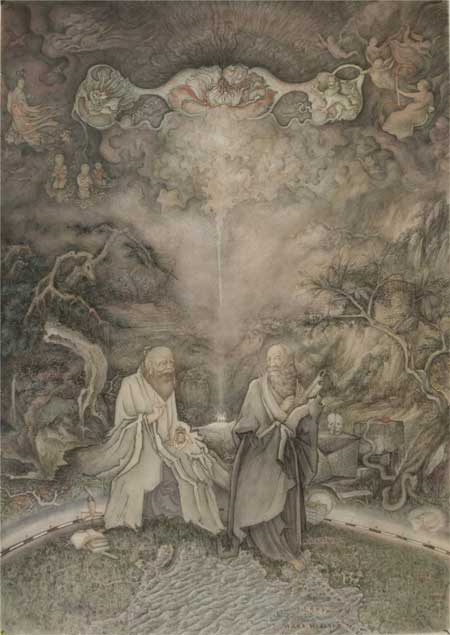 The Harmony, by Xu Jianguo. [Photo provided to chinadaily.com.cn] For more Xu Jianguo's artwork, here