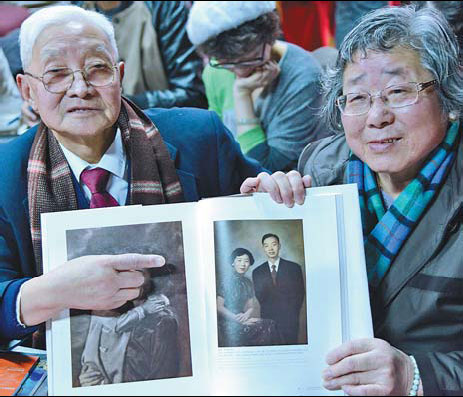 Chen Lishan and his wife Cao Lizhen show off their engagement photo taken by Sam Sanzetti in the 1950s. Hu Xiaomang / For China Daily
It was a social necessity for the rich and famous in Shanghai to have their portraits taken by Sam Sanzetti at his studio on busy Nanjing Road. But few realized that their photographs would become a part of Shanghai's history decades later.
Sanzetti (1905-86) was a Jewish photographer who worked in Shanghai from 1922 to 1955. A collection of his photography works, Eternal Moments: Portraits of Old Shanghai, has been published by Shanghai Zhongxi Book Company and Shanghai Fine Arts Publisher. This followed an exhibition of his works last year.
The photographer came from Russia and changed his name from Sioma Lifshitz to Sam Sanzetti. In time, his photo studio became one of the best-known in Shanghai in the 1920s.
By the time Sanzetti left China in 1955, he was the proud owner of four studios.
"It was a time when culture in Shanghai was in full blossom," says Qiu Zhijie, curator of the retrospective exhibition of Sanzetti's photography last June.
"He captured and preserved a precious part of the city's history, which once was criticized, and meant to be erased," says Xu Zhongliang, publisher of Sanzetti's collection of photographs.
Israeli jewelry designer Moshe Deksler found more than 20,000 old pictures from an old suitcase left by his late stepfather Sanzetti, and brought them back to Shanghai.
The Israeli consulate started an online campaign to identify the subjects of the portraits.
Chen Lishan, 84, and Cao Lizhen are among the few people in the portraits presented at the book launch. The couple had their engagement picture taken at Sanzetti's studio in the 1950s.
"A year later when we wanted to have wedding pictures taken, his studio was no longer there," Chen recalls.
Chen liked the elegance and artistic feeling of Sanzetti's work. "It's like an oil painting," he says.
He was 25, and a college graduate majoring in textile engineering, a young man with fresh ideas.
"You could still see lots of men in suits and women in cheongsam on Avenue Joffre (today's Huaihai Road) in the early 1950s, but within five years, the style changed drastically," Chen says. "Even if Sanzetti's studio has stayed open then, it would not have had customers any longer."
The 700 carefully chosen images in the book include those of children, men and women, and groups.
"His photography has shown some stylistic similarity with the calendar paintings of the same time," Fudan University professor Gu Zheng says. "Maybe he was influenced by the popular culture of the city then."
"I hope Sanzetti's art can inspire more public interest in the city's visual history. There is a lot to be discovered and revived," Gu says.
zhangkun@chinadaily.com.cn