Lure of luxurious hotpots draws Shanghai diners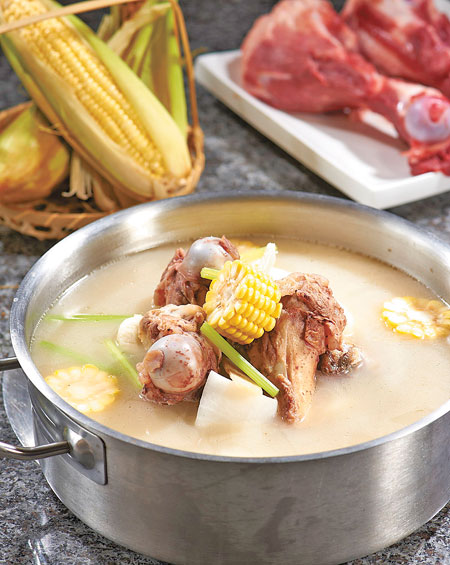 Pork stock bones and corn make a tasty broth base for hotpots. Photos Provided to China Daily
Winter offers chilly prospects for most restaurants, as they are faced with inclement weather that often keeps their regular patrons at home rather than dining out.
Related: Rainbow dumplings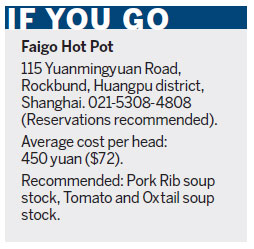 But it is exactly the winter cold that hotpot restaurants are eagerly looking forward to, because unlike others, this is the best time for business. Hotpots have always been the foodie favorite as the temperatures drop.
In northern China, they love to scald slices of lamb or beef and vegetables in stock in a high-funneled copper pot fired up by charcoal. The cooked meats are then dipped in a spicy sesame sauce that will often contain lots of coriander and flowering chives.
In the south of the country, hotpots have evolved into more varied styles, often served in individual pots heated by paraffin, or in stainless-steel pans over induction stoves. There is a vast variety of ingredients and base stocks to choose from and the very affordable prices add to the attraction.
But there are exceptions. As far back as 2004, the Cantonese-style Faigo Hot Pot had already started its innovative approach.
"We are aiming at the high-end customers," says Vincent Ye, group director of food and beverage at the restaurant.
The average cost per head at the restaurant is about 482 yuan ($77), according to feedback on Dianping.com, a popular online restaurant website. The expenditure for the average hotpot restaurant is around 75 yuan per person.