Hotpot hot spots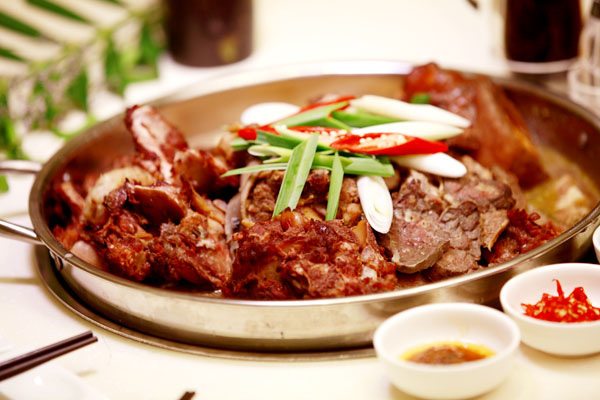 Full-flavored ox bone broth is highly recommended by chefs at Hong Kong Gold Medal Seafood Hotpot. Photos provided to China Daily
As the weather chills, diners all over China will be heading to restaurants where the meal will start with a huge bubbling pot of hot soup. Ye Jun looks at the most popular hotpot restaurants now making waves in the Chinese capital.
It is said that the first hotpot was invented when the Mongol conqueror Genghis Khan reputedly boiled some lamb in his helmet. Many myths and ages later, the convenience and diversity of hotpot cooking has made it one of the most popular eating styles in China. And in Beijing, the Hong Kong-style steamboats are fast becoming this winter's hot choices.
Malaysian Vincent Yap has worked with Faigo Hotpot restaurant as food and beverage director for two years, and has overseen the establishment of two branches in Beijing. The latest is at the No 8 Apartments near Chaoyang Park. Another branch will open soon in Tianjin.
Yap says as the weather cools, business is heating up, and sometimes they had to extend from 2 am to almost 4 am to accommodate the supper crowd.
Faigo's Hong Kong founder opened his first restaurant on the mainland in 2004 in Shanghai.
"He loved hotpot and had only wanted to have a good place to eat it for himself," says Yap. "But business was so good he realized a lot of people shared his craving for a good hotpot. Then it became a business opportunity."
Hotpot is a highly regional food style. It was more popular in north China than the south, initially, because of the weather. In the more northerly cities, there are eight months with relatively cooler weather, which is ideal for crowding around a steaming hotpot. In the southern regions of China such as Hong Kong, the cold season is much shorter.
But weather has little to do with taste in places like Sichuan in the southwest, where spicy hotpots are eaten all year round. Here, the popular belief is that a good sweat after eating the extremely spicy and hot soup will offset the damp and humid weather.
In Beijing, the local hotpot features wafer-thin cuts of lamb dipped into sesame sauce, all cooked in shining bronze pots effectively fueled by charcoal.
In recent years, the Sichuan hotpot brimming with chilies and prickly ash has also successfully carved a niche in the capital.
One of the most successful Si-chuan imports must be Haidi Lao, which offers reasonably priced Sichuan-style hotpot and intimate and considerate service - a rare commodity in Beijing where service is apathetic at best and often rude at worst.
Hotpots have also become fast food, with brands like Dingding Xiang offering hygienic, individual stainless steel pots in a contemporary ambience, appealing to the taste of younger diners.
Before Hong Kong's Faigo, Macao Doulao and Rua Do Cunha Macao Hotpot Restaurant were offering similar styles and already enjoying a high level of popularity.
Faigo simply takes what they offer to an even higher benchmark - with quality ingredients, comfortable environment and good service.
While one can enjoy Beijing-style mutton hotpot at Donglai Shun for about 150 yuan ($24) per head, the average bill at the Hong Kong-style hotpot restaurant is more likely in the 300 to 600 yuan range.
"We try to provide the best food. We do not intend to be expensive - the market has a demand for a restaurant with our price level," says Yap. Charging more means the restaurant can import beef from Australia or New Zealand, locally from Dalian, Liaoning province.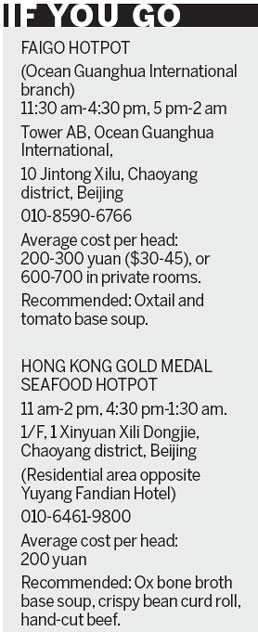 There are also lobsters, geoduck and abalone, besides dried fish maw and sea cucumbers for the hotpot, all paired with the best of French wines.
Hotpot also allows a versatility of ingredients, especially seasonal ones such as hairy crab, bamboo shoots, coriander and bean sprouts, or even white asparagus, when they are available.
Faigo's chefs make their own soy sauce with a mix of 13 ingredients, creating a sauce that will not overwhelm the freshness and flavor of beef and seafood.
The biggest difference between Hong Kong-style hotpot and Beijing or Sichuan styles is the soup base.
Beijing-style often uses clear soup while the Sichuan soup is all chili and spice. The Hong Kong-style soup base choices include an array of nutritious tonic soups, which customers can drink before putting in more ingredients to cook.
Popular choices include ox bone with tomato broth, Chaozhou dried shrimp with radish, and a satay stock base.
Faigo has a very Hong Kong-style coriander and century-egg soup, which is said to dispel extra heat in the body.
Another different soup to try is the sweet and aromatic coconut-based soup, especially good with seafood.
Hong Kong Gold Medal Seafood Hotpot, another new kid in town, uses another unique selling point.
It plasters its many testimonials on a wall near the entrance, showing support from celluloid luminaries such as Donnie Yen, Leon Lai and Aaron Kwok.
It's all in the family, since the owners are two big shots in the Hong Kong and mainland music industry.
Ken Lai, its manager, recommends Gold Medal ox bone broth, which he says is popular among the film stars. The restaurant has as many as 18 base soups to choose from including chicken broth with yellow rice wine, fish head with tofu and cabbage.
Seafood is another specialty at the restaurant. Various crabs, grouper, clam and sashimi are freshly cut and served.
The Hong Kong-style restaurants use electric-magnetic stoves, which enable diners to share foods, as the Chinese do at home, eating as a family.
Yap says Hong Kong-style hotpots are comparatively lighter.
Sauces are also lighter, so as not to compete with the taste of ingredients.
And if those more used to the industrial-strength flavors of Sichuan hotpot think this style is "too bland", Yap says that the growing number of Hong Kong-style hotpot restaurants opening proves that this is "the new trend".