Rainbow dumplings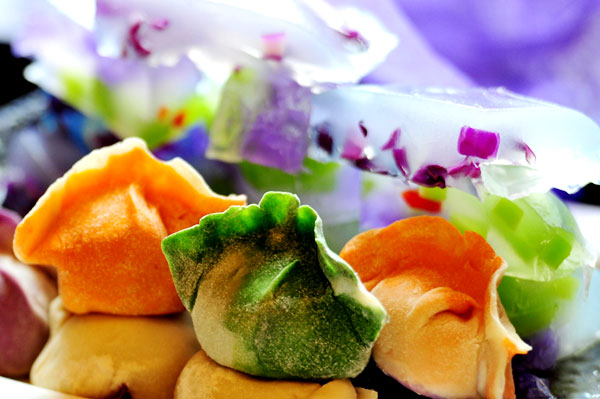 Try some naturally colored dumplings to warm your tummies on the coldest nights of the year . Photos Provided to China Daily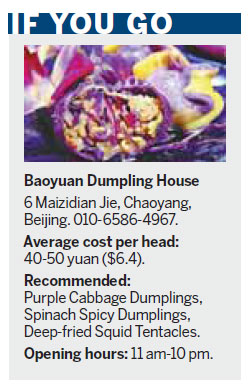 The winter solstice is upon us, and as the deepest winter nights fall, people in North China will be cooking dumplings. But, Fan Zhen and C.J. Henderson found a place where you can feast royally.
Keeping traditions alive is never an easy thing. When it comes to a culinary convention, a lot of patience and courage is required to refine classic cooking techniques into an art. Chen Zunkai, founder of Baoyuan Dumpling House, has spent the past 16 years improving one of the most traditional of Chinese foods: jiaozi or dumplings.
Her dumplings are not the plain white doughy crescents simply stuffed with pork or lamb, but colorful ingot-shaped dumplings using more than 150 kinds of fillings.
"What I try to do is to make dumplings that have a taste of home," Chen says. "I hope every customer can taste something familiar, be they Northerners or Southerners, vegetarian or non-vegetarian, Chinese or foreign."
Chinese dumplings are believed to be more than 2,000 years old. Traditionally, they are made and eaten by people in northern China at festive occasions such as the winter solstice. To combat the year-end cold, they usually fill the dumplings with strongly flavored meats such as pork or lamb.
For Chen, her epiphany came after she noticed that there were not many choices for those who prefer lighter fillings and more nuanced flavors. Most vegetarian dumplings had a filling of only two kinds of ingredients, and not one single restaurant in Beijing had more than 10 kinds of vegetarian fillings.
"I thought I could do better," Chen says.
| | | |
| --- | --- | --- |
|   |   | |
| | Recipe: Jiaozi  |  Warm hearth, global appeal |