Italian Laura Iesse is only familiar with one hutong in Beijing. Unlike other visitors who lose themselves in the maze-like alleys, she heads directly to her destination - home.
Without even changing out of her business suit, she rushes into the poky kitchen to help her future mother-in-law Zhang Ji'e prepare dinner.
"Laura is very filial. She is well aware of China's family traditions," says Zhang, before turning to Iesse to ask where the vinegar is.
Iesse and her fianc Li Fei, a taxi driver, are to wed later this month. "We want our big day to be low key and low budget," says Iesse, explaining why they will have a group wedding.
Iesse is planning to wear the long qipao dress and cover her head with a red cloth, in keeping with an old Chinese custom of the bride keeping her face hidden from the audience.
Two-and-a-half years ago, Iesse, at that time a final year student at Venice University in Italy, hailed a taxi while on a study program in Beijing. She started talking with the taxi driver, who made fun of her beginner's Chinese.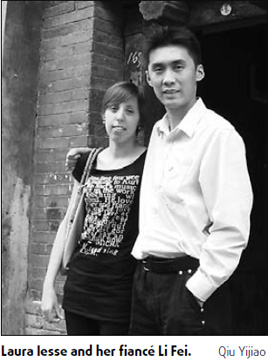 "I refused to speak to him because he made me so angry," Iesse laughs at the memory. But she warmed up to Li when he helped her bargain with some street vendors for clothes.
As they got to know each other, they discovered they had at lot in common. Coincidences such as Li having a twin brother, while Iesse has a twin sister, made the couple feel they were destined for each other.
"Chinese people like to say yuan (destiny) to describe how difficult it is for two strangers to meet each other, especially in a love relationship, and I think our story starts from yuan," Iesse says.
When they were courting, Li was worried that his house would seem shabby to Iesse and was afraid this would pose an obstacle to their relationship.
He also worried that Iesse and his mother wouldn't understand each other because when Iesse visited his family for the first time, she didn't get what Zhang was saying.
Today, Iesse has no difficulty understanding Mandarin, even when her future mother-in-law speaks in a strong Shandong dialect. Zhang is positive about the mixed marriage, although when she first found out her son was dating an Italian, she was skeptical.
"I never imagined they would stay together. Why would a foreign girl be willing to marry into an ordinary family?" she says.
Zhang is busy making jiaozi, Iesse's favorite Chinese food. Iesse says she now has a Chinese stomach although she still visits Italian restaurants once a month with colleagues. She once tried to make an Italian dinner for her new family, but they didn't like cheese in the dish and that was the last meal she was allowed to cook.
Iesse follows Zhang to the living room, holding bowls and chopsticks. The television is on and a news story catches Zhang's attention. It is about an American girl who has married a poor peasant in Henan province. She looks around her old house and furniture and sees it in a dim light, murmuring: "She (Iesse) deserves a more decent family."
Iesse loves fashionable clothes and she used to enjoy shopping when she got her salary, but these days she gives half her income to Zhang, as is traditional in many Chinese families.
She also tries hard to please her future mother-in-law. Once when Zhang and Iesse went shopping together, a red T-shirt caught Zhang's attention, but she did not buy it saying it was too expensive. Iesse remained silent at that time but bought it for Zhang the next day.
Zhang, however, is not always satisfied with the gifts Iesse brings home for her. One day Iesse gave her steamed rice cakes with sweet stuffing from Ningbo, East China's Zhejiang province, where Iesse works. Unknown to Iesse these are readily available in Beijing, which amused Zhang.
On another occasion, Iesse gave her green tea in an elegant box. Zhang complained it was not of good quality, but admits: "It is sometimes difficult for her to identify quality goods in China."
"I don't have to be the translator for them any more. They are getting along very well," says Li.
Zhang already considers Iesse as her daughter. "Laura is closer to me than my twin sons now."
The Italian trading company where Iesse works will soon send her to work in Beijing. These days, Zhang is busy preparing for Iesse to move in. Without discussing the matter with her two sons, she changed the kitchen into a bathroom, which is more modern, spacious and luxurious than the other rooms in the house.
"Laura likes to take baths. I want to help her feel more comfortable. Otherwise, I would feel sorry for her."
"I actually find the house alright. It's very special," Iesse says. "I can even hear the national anthem from Tiananmen Square at daybreak."
The old house reminds her of houses in Venice. "They are also located downtown but they have modern dcor inside." Even so, Iesse is still not comfortable with the toilet outside. "It is not a problem, I will get used to it."
"I understand how much of an emotional attachment Fei has to this hutong and the house. And now, I am part of them," she says.
(China Daily 06/18/2009 page20)