Warm hearth, global appeal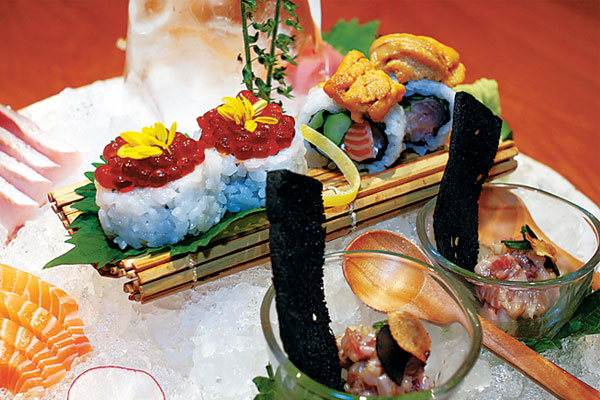 The sashimi and sushi platter is the refreshing start of a pleasant meal at Roka in Hong Kong. Provided to China Daily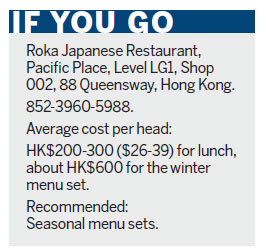 There is the Tokyo school, and there is the Osaka school in Japanese cuisine, but what is served at Roka is more like cosmopolitan contemporary. That certainly seems to be the trend in major cities where restaurants now cater to global villagers.
Related: Festive discovery
Of course, there is the fine-tuning you have to do to pander to local taste buds.
Raw fish is an acquired taste, and many Chinese palates are unaccustomed to the subtlety of eating uncooked seafood. What they should do then is sample the sushi and sashimi platter that is part of Roka's seasonal menu.
The sashimi is so fresh you would probably be very wet if it gets any better. The salmon was tight-textured, with none of the flaking that indicates that it has been out of water too long. The yellowtail had a lovely bite to it that did not distract from its characteristic buttery density, and even the tuna, not one of my favorites, made me raise an eyebrow in appreciation.
The platter also includes a shot glass of Wagyu beef tartar, with roasted nori bread. My mother was enjoying it very much, and when I told her she was eating raw beef, she barely paused mid-spoon before continuing her meal. That was good testimonial indeed.
I love maki rolls, and I like sea urchin roe, and when the two comes together, it means the morsels disappear a little quicker than usual. The sea urchin roe was sweetly flavored, with not even a hint of the usual fishy aftertaste that taints even the freshest roe sometimes.
The other sushi duo on the platter was topped with slightly salted salmon roe and a few decorative chrysanthemum petals. Again, the roe was salty enough to excite the tongue, and could be instantly popped on the roof of the mouth with a lot of satisfaction.