Rabbit hops in to 'lasers' and ravioli jiaozi
Spring Festival this year saw my wife Ellen and me traveling back from Australia to Tianjin. We spent a cold night in Hong Kong's airport, with Ellen sleeping peacefully on a couch, while I kept an eye on our luggage.
From there we flew back to Beijing, tired and bleary eyed, and caught a shuttle bus to Tianjin. We were met by Ellen's parents, who were eager to catch up on all our overseas exploits.
While loading our suitcases into the car, Ellen told me: "Mom's very happy you're back, so tonight you can light the lasers!"
"Have they gone high-tech this year for fireworks?" I asked, wondering if I was really fully awake yet.
Lei zi aren't focused beams of light, but rockets, set off to scare away bad luck.

This year I saw a man whose actions will make him stick in my mind forever. This candidate for the Darwin Awards was carrying a huge roll of firecrackers in the same hand as a lit cigarette. At any moment, if the ash was to fall, his fingers could have been blown off.
Not content with carrying them in an unsafe manner, he casually flipped them out along the ground, rolling them straight under Ellen's father's car.
He was surprised when I stopped him lighting them, and stood bemused as I repositioned them in a place that wouldn't risk damaging property, let alone life and limb.
Then I arranged the ones Ellen's parents had bought, and carefully let them off, using a long stick of incense to light what I thought were rather short fuses.
With the fireworks done, the serious task of making the dumplings - jiaozi - began. This year, determined not to repeat my previous poor efforts, I had brought back a secret weapon from Australia: a large ravioli press mould. Thus armed, I was easily able to turn out my share of dumplings, despite mutterings that I was cheating!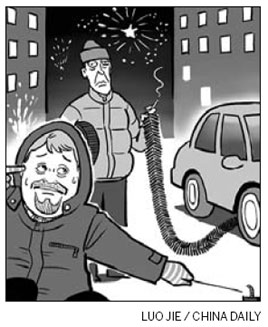 They must have tasted good, however, as my "cheating" dumplings were quickly devoured by the four of us. As we ate, Ellen filled her parents in on all her adventures in Australia - petting sharks in a tank in Robe, watching the pandas play in Adelaide, trying local foods at Central Market and taking part in an Australia Day breakfast.
Stuffed to the gills, we then took our places opposite the shiny new flat screen TV that Ellen's parents had bought especially to watch the New Year Concert. While this sounds great in theory, their apartment isn't very wide, so I was left perched about a meter away from the picture, and thus could only see a small part of what was happening.
That didn't really bother me, however, as I was exhausted from our epic journey.
As I nodded off, I was just pleased to be with my wife and parents-in-law for the start of the New Year. Looking back, I'm delighted that this year we had the chance to spend part of the Spring Festival with both my parents and Ellen's - and a pair of pandas.
At this time of year, it doesn't matter where you celebrate, as long as you're with family and friends.
China Daily
(China Daily 02/15/2011 page20)