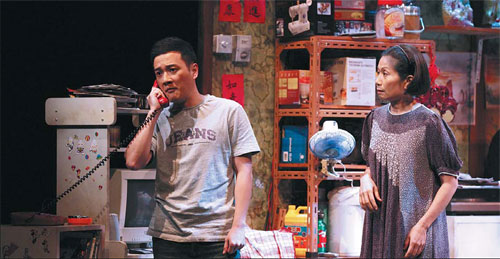 A scene from Hong Kong Repertory Theatre's award winning play The Last Supper. Provided to China Daily
A depressing play about the problems of life in Hong Kong may be a bitter concoction, but it does make you think and feel better as a person, Xu Jingxi reports in Guangzhou.
Related: Fish Leong draws crowd for Beijing performance
The audience sank into silence, which made the feeble splutter of the lighted charcoal in a steel barrel clearly heard. Mother and son sat side by side on the wooden sofa, looked at each other and lowered their heads.
I smelled despair and death.
I wished I could shed tears like the sobbing young man next to me, so that I could pour out my gloom after watching a mother and her son having what appeared to be the last supper of their lives.
Hong Kong Repertory Theatre set the table for its award-winning play The Last Supper at Guangzhou Opera House, from Tuesday to Thursday.
The play pocketed seven important prizes at 2011's Hong Kong Drama Awards and Hong Kong Theatre Libre, and has been applauded for reflecting the real lives of low-income people hidden behind the glittering night views of the Pearl of the Orient.
Lam Lai-bing, the mother, is in her 40s and earns a living by massaging feet. Her gambler husband forces her to mortgage the apartment, her father's only legacy, to pay debts. And he has packed his bags and left their home to stay with his mistress.
Chow Kwok-hung, Lam's son, is in his late 20s and has just lost his third job, as an interior decorator, and has also been dumped by his girlfriend.
Mother and son plan to commit suicide by burning charcoal in an enclosed space and thereby poison themselves.
But before they go through with the plan, Lam calls her son home for a supper, after a long absence from each other's lives.
Although there is only one scene and two roles for most of the 100-minute play, I was not bored because I was peeling away the onion of the protagonists' depressing pasts.
Cheng Kwok-wai, the playwright, reveals that he was inspired to write the story two years ago when his friend told him he planned to commit suicide.
They were drinking and chatting when Cheng's friend suddenly revealed that as a kid he was beaten by his father and sent to an orphanage. The man said he wanted to kill himself because he was haunted by this childhood nightmare.