China's major archaeological finds in last five years (part 1)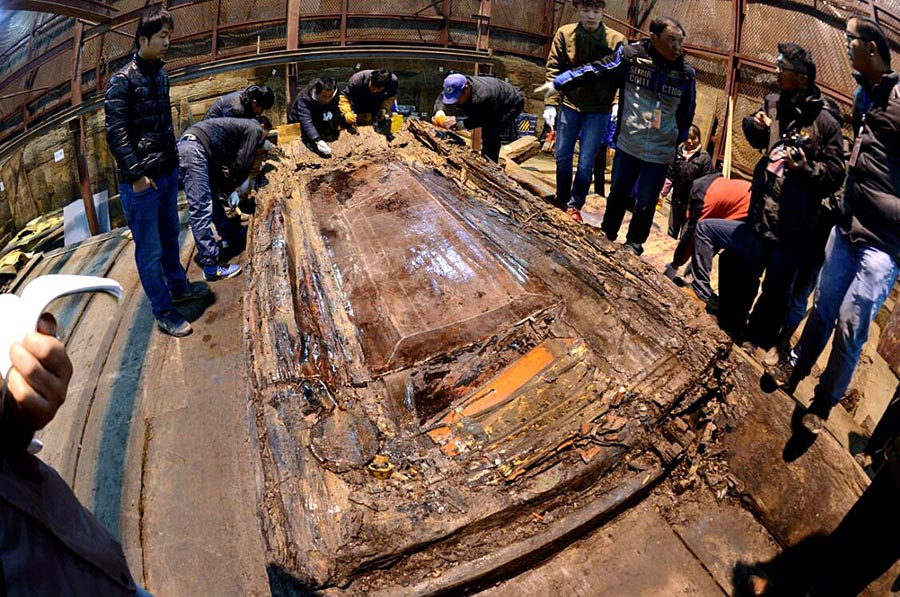 Archaeologists clear the upper layer of the main coffin of Marquis Haihun's tomb. [File photo by Guo Jing/China Daily]
Marquis Haihun's tomb in Nanchang, Jiangxi province
The 2,000-year-old tomb of Haihunhou turned out to be the most complete Western Han Dynasty (206 BC - 25 AD) cemetery ever found. The marquis's tomb near Nanchang, capital of East China's Jiangxi province, is one of the few imperial tombs that has not been looted. More than 10,000 artifacts have been unearthed so far.
A seal inside the coffin bore the characters for Liu He, confirming his identity and adding to the weight of evidence already provided by another seal, along with inscriptions on gold coins and bamboo slips.
The owner of the main tomb, Liu He, was the grandson of Emperor Wu. The emperor was the greatest ruler of the Han Dynasty, which was one of the most prosperous periods in China's history. Liu was given the title "Haihunhou" (Marquis of Haihun) after he was deposed as emperor after only 27 days, dethroned by the royal clan because of his lack of talent and morals. Haihun is the ancient name of a very small kingdom to the north of Jiangxi.
Marquis Haihun's tomb in Nanchang of East China's Jiangxi province was listed in China's top10 archaeological discoveries in 2015.