China's major archaeological finds in last five years (part 1)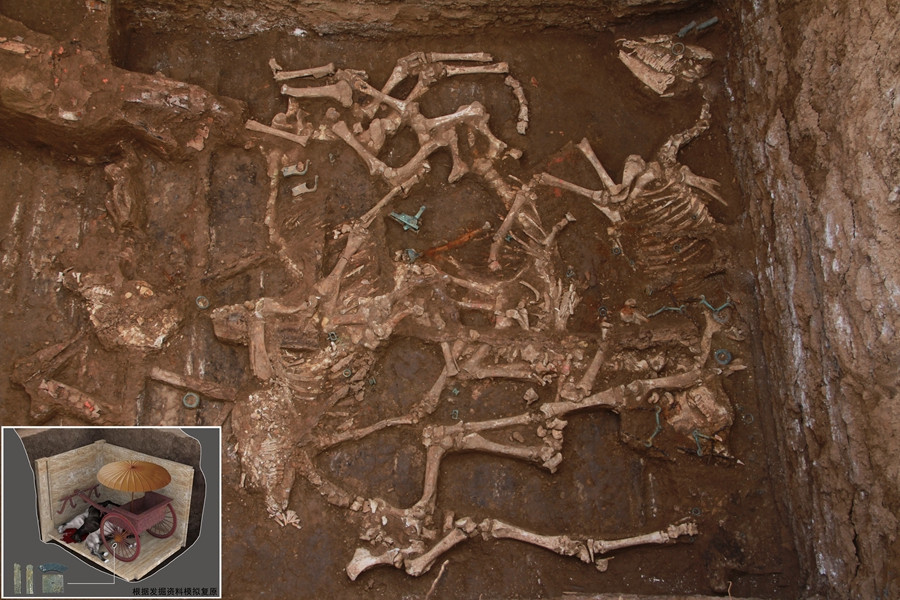 Horse remains in a Xuechi sacrificial ritual site, Fengxiang county, Shaanxi province, Qin (221 to 206 BC) to Han (206 BC to 220 AD) dynasties. [File photo]
Xuechi ritual site of the Qin and Han Dynasties in Fengxiang, Shaanxi province
The Xuechi ritual site is the first archaeological discovery of the Si ritual complex recorded in ancient texts, which consists of an altar, surrounding wall, plaza, roads, pits and buildings. Actually, it is the earliest and largest "royal altar" from the Qin and Han dynasties.
The site was the formal venue for holding national sacrifices to heaven, led by the kings and the emperors from the Qin State to the Han Dynasty.
The site both proved the historical records that near the Yongcheng city there was a national ritual venue, and provided important material for the research of national ritual activities from the Eastern Zhou Period to the Han Dynasty.
The discovery is of great academic value for the ritual system and politics in the Qin and the Han Period, as well as Chinese ancient ritual culture among others.
The Xuechi ritual site of the Qin and Han Dynasties in Fengxiang, Northwest China's Shaanxi province, was listed as the China's top 10 archaeological discoveries in 2016.