China's major archaeological finds in last five years (part 1)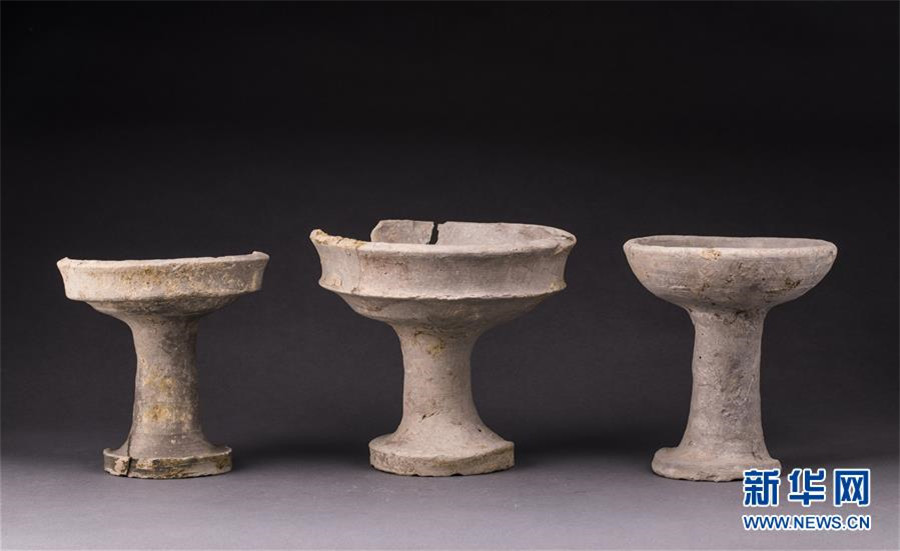 Pedastal food containers made of pottery were found at the Luxian ancient city site, Tongzhou district, Beijing, Han Dynasty. [File photo/Xinhua]
Ancient Lu County of the Han Dynasty in Tongzhou, Beijing
In coordination with the construction of the sub-center, Beijing carried out an archaeological survey, reconnaissance and excavation, which led to the discovery of the ancient city remains of Lu in Beijing's Tongzhou district.
Archaeologists prospected an area of 1.22 million square meters (122 hectares), excavated over 40,000 square meters and discovered the site of the ancient Han Dynasty city of Lu and the surrounding tomb cluster.
Located at Gucheng village in Lucheng township of Tongzhou district, the site of the ancient city of Lu is square-like in shape with a total area of around 350,000 square meters.
Roads dating from the Ming, Qing, Liao, Jin and Han dynasties have been excavated in the northern part of the city, moat remains were discovered outside the city wall foundations and a large area containing Han Dynasty cultural remains were found outside the moat remains south of the city.
The ancient city of Lu mark the only Han Dynasty city remains discovered in Tongzhou. According to historical records, the city of Lu was the administrative center of Lu county in the Han Dynasty.
Altogether 1,146 tombs dating from the Warring States Period to the Ming and Qing dynasties were excavated within a radius of two kilometers, centering on the city remains, which provide important materials for a comprehensive study of the city of Lu.
The city remains of Lu have been relatively well preserved and filled the archaeological study gap of a county-level city of the Han Dynasty.
The structures and offerings of the burials provide valuable data for research on the development of this area overn a long time span.
Ancient Lu County of the Han Dynasty in Tongzhou of Beijing was listed among China's top 10 archaeological discoveries in 2016.