Dutch court hears suit over stolen Buddha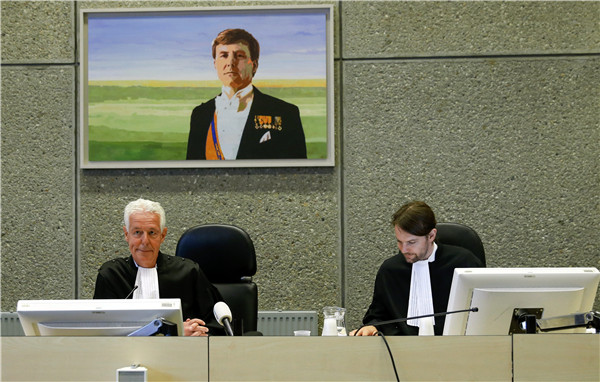 Judges hear the case brought by the villagers in Amsterdam on Friday. [Photo/Xinhua]
Villager Lin Wenqing said the Buddha had been worshipped in the village temple for more than 1,000 years, and even though the statue is no longer there, the villagers still hold a prayer ritual every year on Oct 5, the Bodhidharma Buddha's birthday according to the lunar calendar.
Liu Quan, a local man who became a monk in his 20s and adopted the name Zhang Gong, won fame for helping people by treating illnesses and spreading Buddhist beliefs.
When he died at age 37, his body was mummified as he had wished, and placed inside the statue.
"Master Zhang Gong was famous as a spiritual leader, because of the help he gave to those who needed it and because of his powers of healing. Upon his death, his body was protected against rotting through herbs and other means. Thereafter, the body was protected with a layer of lacquer and covered with a layer of gold," said Liu Yushen, a lawyer registered in Beijing who provides legal support to the villagers.
"The likely wish of monk Zhang Gong was that through mummification he would continue to have a spiritual and healing power on his environment after his death, and he would certainly not have agreed that his body would become the subject of (illegal) art trade," Liu told Xinhua.
"For villagers who live in a region that was the root of Buddhism in China, mummification has a special meaning. It implies that the body of the enlightened Buddhist monk remains part of the human world, and can still be defiled after his death by external influences. From generation to generation, the statue is worshipped and the day of the monk's death is still marked with pious ceremonies."
In March 2015, hundreds of Fujian residents signed a letter addressed to Mark Rutte, prime minister of the Netherlands, pleading for the return of the statue.
The letter, written in Chinese and English, was handed to European-Chinese groups in the Netherlands, which delivered it via the Chinese embassy.
"We believe this is the Buddha we have been searching for during the past 20 years and we look forward to its return," the letter said.