Beijing exhibition displays works by artists from Guangdong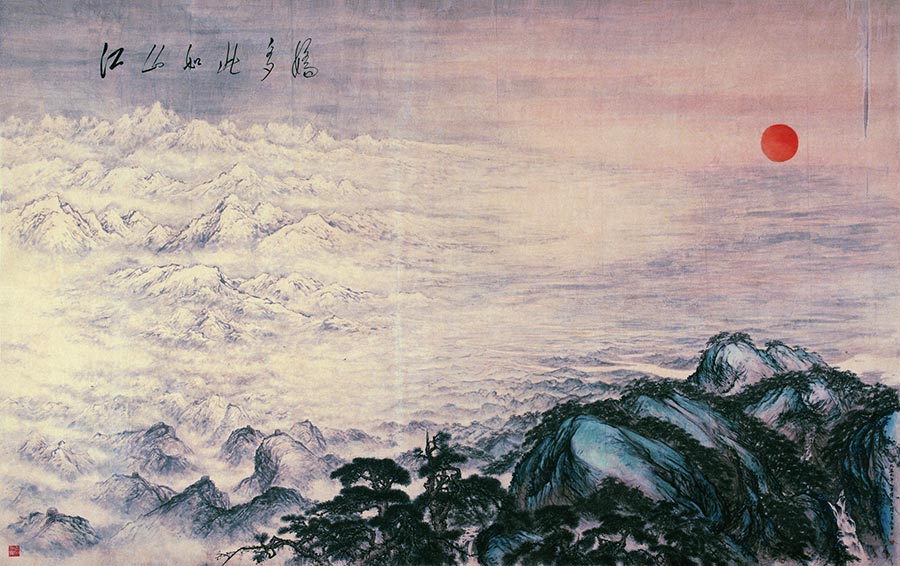 Jiangshan Ruci Duojiao, Guan Shanyue [Photo provided to China Daily]
Of the first-generation Chinese artists who studied abroad in the turn of 20th century, many were natives of Guangdong province, such as Gao Jianfu (1897-1951), co-founder of the Lingnan School of Painting, and Lin Fengmian (1900-91), the master painter who revolutionized Chinese painting with Western techniques.
An ongoing grand exhibition at the National Art Museum of China marks the contribution made by those Guangdong-born artists to the progress of Chinese art in the 20th century.
Destined to Reform, now on at the Beijing museum through July 23, shows more than 500 paintings from dozens of museums, galleries, collectors and families of featured artists.
Highlight paintings include a replica of Jiangshan Ruci Duojiao (Beautiful Landscape of the Motherland) co-created by Guan Shanyue, who was from Guangdong, and his contemporary Fu Baoshi. The original painting was inspired by a poem of late Chairman Mao Zedong and is now housed at the Great Hall of the People.