Scott Adkins wins award from Jackie Chan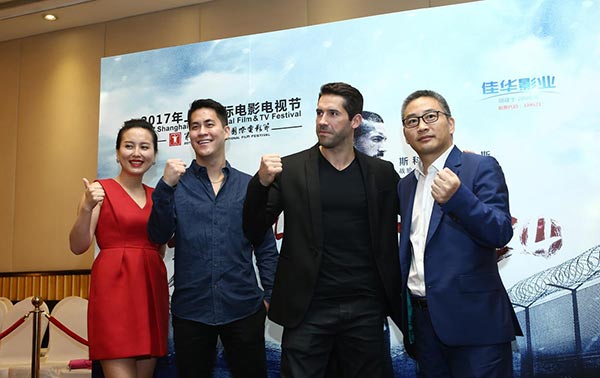 English actor Scott Adkins (second from right) promotes Boyka-Undisputed in Shanghai [Photo provided to China Daily]
English actor Scott Adkins, who's best known for his role as the Russian prison fighter Yuri Boyka in the Undisputed franchise, won a best action actor award on June 22, the final day of the Jackie Chan Action Movie Week, an event of the Shanghai International Film Festival since 2015.
Seven other winners were announced. Chan founded the award to honor actors who've made outstanding contributions to the action-movie genre.
Adkins, 41, says he is privileged to get the award and hopes to cooperate with Chinese filmmakers in the future.
He also promoted Boyka: Undisputed — the series' fourth installment — during the Shanghai film festival.
Boyka: Undisputed may show on the Chinese mainland later this year.
The latest installment, which was released in the United States in September 2016, sees Boyka again involved into a series of conflicts due to a rival fighter's accidental death.