Kwok, Wang team up for summer film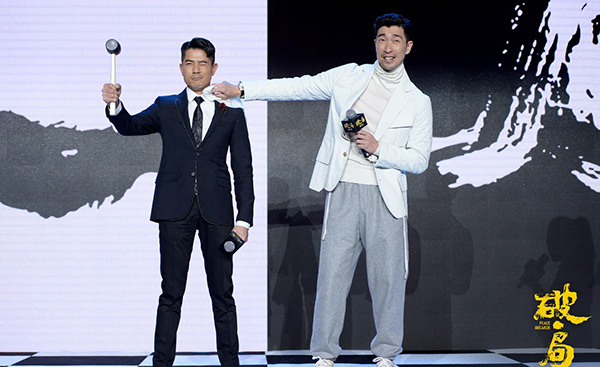 Award-winning actors Aaron Kwok alongside Wang Qianyuan (right) promote the upcoming crime thriller Peace Breaker. [Photo provided to China Daily]
Film Peace Breaker, the Chinese remake of the 2014 South Korean crime thriller A Hard Day, unites award-wining actors Aaron Kwok and Wang Qianyuan for the first time on big screen.
The film, which will hit Chinese theaters on Aug 18, chronicles the darkest day of a crooked policeman, who tries to cover up a car accident but is drawn into a scheme.
Kwok, one of Hong Kong's iconic "Four Heavenly Kings", the city's best-known stars since the 1990s, has taken on some classic police-officer roles on the silver screen, such as those in the 2005 crime thriller Divergence and the 2015 film Port of Call.
But Kwok says his new role is more challenging for its complicated personality.
He was also excited to be working with Wang.
"I have worked with many actors, but few of them are as good as Wang," says Kwok of his co-star, who won the best-actor award at Tokyo International Film Festival for The Piano in a Factory in 2011.
Chinese mainland actress Liu Tao, a recent sensation in the hit TV series Ode to Joy, portrays the wife of Kwok's character, the only major female role in the film.
For his part, Wang says Kwok is quite professional, recalling that the Hong Kong star insisted on real fights to pursue a better visual effect in some scenes.