Historical musical pays tribute to heroic grassland sisters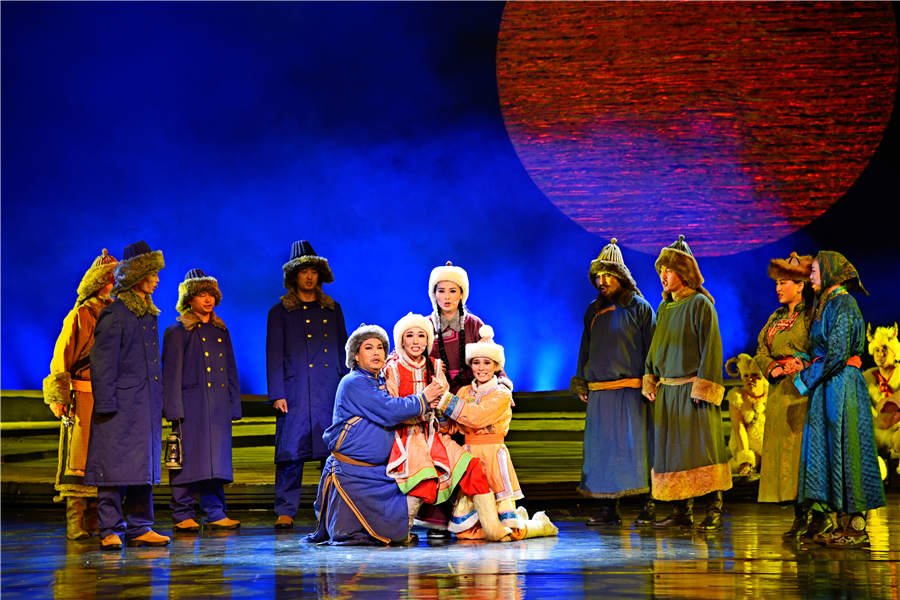 A scene from the musical Little Heroic Sisters of Grassland. The two little sisters reunite with their parents and villagers. [Photo by Zhang Xingjian/chinadaily.com.cn]
Fifty-three years ago, two young Mongolian girls Long Mei and Yu Rong touched the heart of China for their bravery and persistence.
The two sisters volunteered to herd sheep for their living unit, but unexpectedly came across the snowstorm.
The flock of sheep was frightened of the snowstorm and moved to the opposite direction of the pasture.
Under these circumstances, the two sisters spared no effort in protecting the flock of sheep from death and led them in the right direction. At last, they survive the natural disaster along with the flock of sheep.
Today, the true story has been adapted into a Mongolian-style musical, called Little Heroic Sisters of Grassland, in tribute of the two sisters.
The musical debuted at the Inner Mongolia Bureau of National Art Troupes on June 19, attracting nearly 1,000 people. Long Mei and Yu Rong also attended.
"I miss the day when I lived in the grasslands. The snowstorm was really terrible to a then 11-year-old girl. I lost my legs in that disaster, but I am not regretful for doing this. If I could go back to that time, I would still choose to save the flock of sheep," Long Mei said.
"Many people asked why we had to save the flock of sheep. Actually, the answer is very simple and clear: Hold life in awe and veneration," Yu Rong added.