Film delays release for students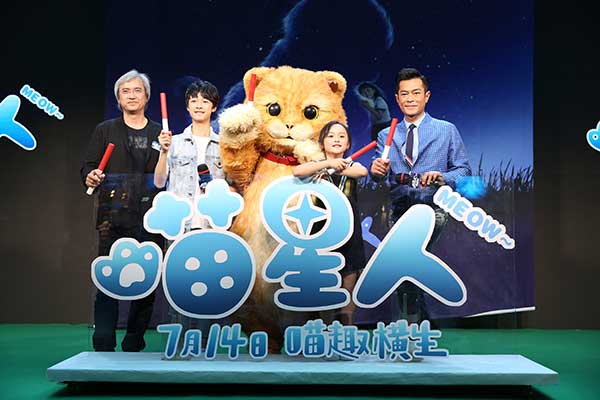 Director Benny Chan (left first), Louis Koo (right first),teen actor Huang Xingyuan (left second) and child actress Liu Chutian (right second) promote the upcoming sci-fi comedy Meow. [Photo provided to China Daily]
The sci-fi comedy Meow, starring Hong Kong actor Louis Koo, recently delayed its premiere to July 14 — a week later than the original date.
The film, which stars mainland actress Ma Li, centers on a cat-shaped alien who embarks on an adventure on Earth and becomes a member of a human family.
Koo, 46, plays the father, and 34-year-old Ma, who's known for the hit comedy Goodbye Mr Loser, plays the mother.
Eight-year-old Liu Chutian and 14-year-old singer-actor Huang Xingyuan play the family's children.
Koo says the film will depict the connection between the alien and the father.
Hong Kong director Benny Chan believes the movie will appeal to viewers of all ages.
The premiere date's change will enable it to appeal to more students, who'll start summer vacation in mid-July, producers say.
Chan, who's known for action hits, is one of the few Chinese directors exploring sci-fi.
His 2010 action film City in Siege is the first Chinese-language movie to feature mutants with superpowers.