Chinese and Australian companies sign 7 movie deals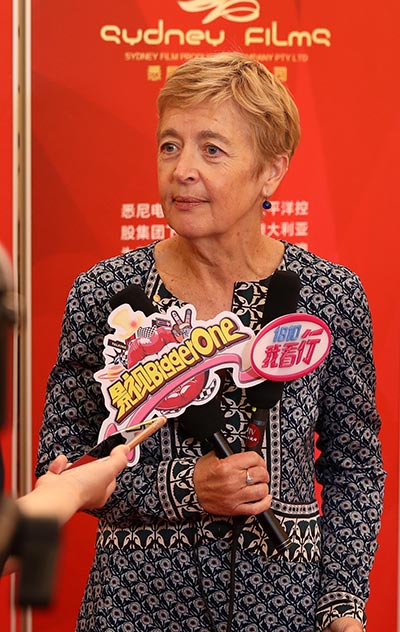 Debra Richards, CEO of Ausfilm, and Australian filmmaker Mark Lazarus attend a Beijing event on Sino-Australian cooperation. [Photo provided to China Daily]
While the Chinese movie market has attracted Australian filmmakers over the past decade, only eight coproduction projects have taken off since 2006, when the two countries first signed a treaty to encourage film partnership. But with seven new coproduction deals signed in Beijing on April 20, the number is expected to rise.
Under a program called Red Billion, co-launched by Australia China Film Association and Sydney Films Production Company, some 30 feature films are being targeted for joint production by 2020.
Covering a wide range of genres, the lineup includes the sci-fi drama Dream Reader Union, which is about a young hacker's adventure to unite warriors with a connection to China's first emperor Qin Shihuang, and the money-themed drama Trader Behind the Scenes about the crisis of China's stock market in 2015.
Comedies such as Once Upon a Time in the Northeast: Artistic Youth, A Trip to Australia and Lost in Australia are other highlights of the program.
The natural scenery of Australia will feature in the movies as well as typical Chinese elements, according to the producers.
Weinan Song, director of Sydney Films, says the program aims to promote both Australian locations and more film cooperation between the two countries.
The 2006 film coproduction treaty between China and Australia took force two years later.
It is limited to feature-length movies, according to Screen Australia, a major funding body for the Australian film industry.
A qualified coproduction can get a rebate from the Australian government of up to 40 percent on its total expenses, says Debra Richards, CEO of Ausfilm, an association that promotes Australian coproductions with foreign companies.
Chinese movies that do postproduction work or digital effects in Australia-regardless where they are shot-can get a similar rebate from Australian government of up to 30 percent.
"But if you just want to come and physically shoot in Australia, and use our locations as beautiful scenery, you can get 16.5 percent back, depending on how much you spend in Australia," she adds.
Seeing Australia's increasing interest in the Chinese market, Richards says she believes cultural differences and language barriers are not the major challenges today.
"I think the challenge is to find a story that works for both countries. If you find a story and develop it with passion, I think that's the way to go," she says.
To date, big-budget coproductions include Guardians of the Tomb, the sci-fi thriller starring Li Bingbing, and Bleeding Steel, an action drama starring Jackie Chan. Both are on the way.
"China is a mysterious, incredible country to me," says Mark Lazarus, a producer from Arclight Films, an Australian company, about shooting for Guardians of the Tomb in Dunhuang, Northwest China's Gansu province.
"The box office here is big and the population here is big. There are a large number of cinemas ... If we don't do that (coproductions), we would miss a lot of opportunities," he says.
Last year, China's box-office takings were 45.7 billion yuan ($6.62 billion), with the country's screens surpassing 43,000, the most in the world.