BJIFF signs contracts worth $2.5 billion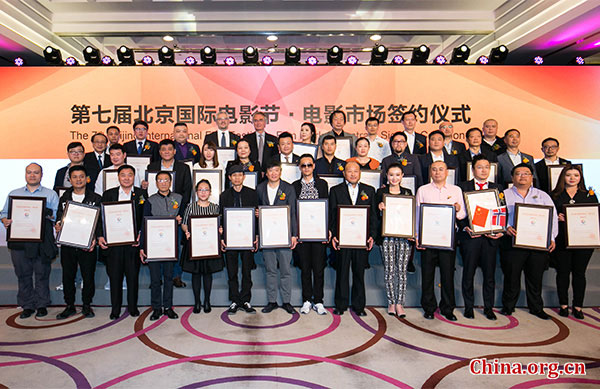 A contract signing ceremony is held in the Film Market section of the 7th Beijing International Film Festival in Beijing, April 21, 2017. [Photo/China.org.cn]
The 7th Beijing International Film Festival (BJIFF) held a contract signing ceremony on April 21 in Beijing, in which 108 businesses signed contracts for 56 key projects worth 17.46 billion yuan ($2.54 billion), increasing 6.9 percent from last year.
The largest deal, worth 3.39 billion yuan, was Dadi Cinema's acquisition of OSGH Cinemas. It enabled Dadi Cinema to improve its layout across China, and also boost its operation efficiency through resource integration.
At the ceremony, Wanda Pictures signed 12 films with the value of contracts totaling 1.86 billion yuan, including films such as Victor, Evil Minds and Mommy. Poly Film, second to Wanda Pictures only, made a total deal of 1.08 billion yuan. Poly Film has been making investment and acquisitions while returning to film making at the same time.
Besides, up to 100 film projects of over 100 enterprises and institutions were signed on Friday, including Beijing Culture, Tianhong Pictures and China Ethnic Film & Television Venture Program.
A total of 165 projects were signed with the total transaction reaching 57.49 billion yuan at previous BJIFFs. On the basis of an increasing number of deals, this year has also seen a broader range of projects across the film industrial chain including its infrastructure, strategic cooperation and film & TV funds.
Related:
Chengdu in major push to promote local brands