Face up to the future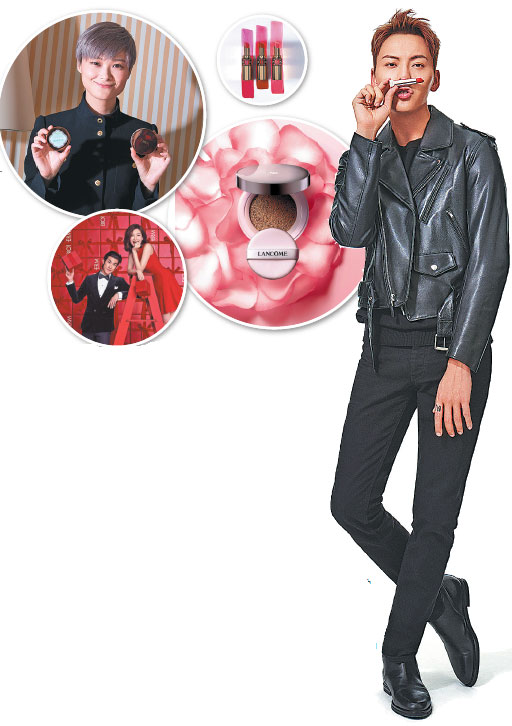 L'Oreal collaborates with Chinese pop stars, such as singer-actor William Chan (right), singer Li Yuchun (top left), actress Jiang Shuying and actor Aarif Lee, to appeal to the younger generations. Photos Provided To China Daily
L'Oreal seeks to catch up with China's expanding digital market. Sun Yuanqing reports.
The digital age is transforming our lives, not least with our compulsion to record every minute of it. This means keeping up appearances, as who knows if the shot will go viral or last for posterity. And that, of course, means always having the right lipstick.
Maybelline's "Make It Happen" campaign, featuring celebrity Angelababy, sold 10,000 lipsticks within two hours during an online live streaming program last April.
Showcasing not just a celebrity's appeal as a trend-setter, but also to an extent such brands are perhaps seeking to use the popularity of social media in China to boost the cosmetics industry.
"The digital age is giving beauty more importance than ever," asserts Jean-Paul Agon, who, as chairman and CEO of L'Oreal Group, the world's largest cosmetics company, is well placed to know.
China has grown to be L'Oreal's second-largest market after the United States. L'Oreal, which owns the Maybelline brand, has been working extensively with e-commerce platforms in China, producing live broadcasts featuring celebrities that allow customers to buy while watching the shows.
"And we are just at the beginning of the story," says Agon. "Chinese consumers have huge capacity to change and evolve. They are very open to new ideas and techniques."