Hollywood producer inks coproduction deal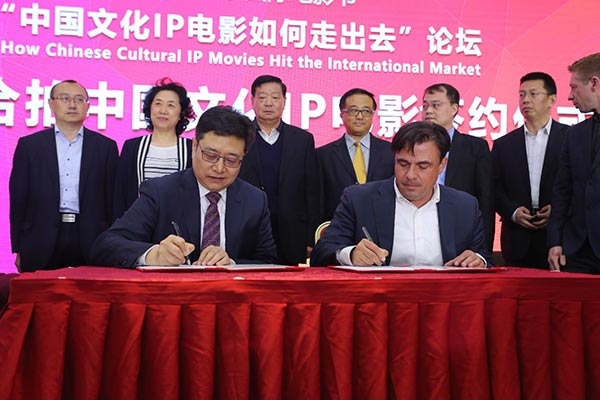 Cui Minghong(left), deputy managing director of CITIC Guoan Group signed coproduction agreement with Tom DeSanto. [Photo provided to China Daily]
Veteran Hollywood producer Tom DeSanto signed an agreement with CITIC Guoan Group at the group's New Bridge Film Production Base on the outskirts of Beijing on Friday to co-produce a Sino-US film in the near future.
According to the agreement, CITIC Group will invest about $120 million for the film. The upcoming production will be derived from Chinese culture, and is meant to set an example of leading intellectual properties of Chinese film go overseas.
The signing ceremony was attended by Li Shilin, chairman of the board of CITIC Guoan Group, and other leaders of company.
DeSanto, known for his Transformers and X-Men films, said he is exploring Chinese mythologies and traditional cultures for inspiration, but no further details were disclosed.
The announcement was made during a forum during last week's 7th Beijing International Film Festival.
Related:
Japanese author a hot property for China filmmakers