Peking University draws global attention with Oxford campus announcement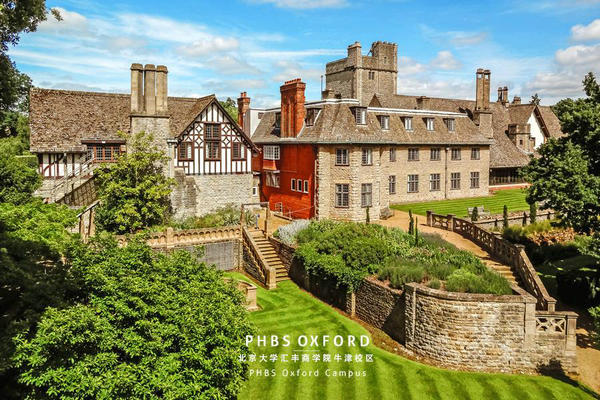 The grounds at Foxcombe Hall, built as a home in medieval style, include a woodland and a formal garden with decorative stone walls. [Photo/phbs.pku.edu.cn]
The first Chinese university to own an overseas branch school, Peking University will open its Oxford campus in 2018. The unprecedented expansion has drawn attention from foreign universities and media outlets, with many predicting that the move will promote Chinese academic influence around the world.
According to an official announcement released by Peking University in March, the university's HSBC Business School has acquired a medieval campus in Oxford from the Open University in Britain. This purchase marks the first independent attempt by a Chinese university to build and manage an overseas branch school. Peking University Oxford Center and Shenzhen Oxford Innovation Center will also be built in the near future to serve as a combined platform for innovation and international cooperation on higher education.
The bold move comes as the Chinese government steps up its efforts to build globally-renowned universities that lead the world in teaching quality and research. According to a blueprint released by Chinese authorities in 2016, the country has promised to allocate 2.5 percent of the country's gross domestic product for research and development by 2020, while several Chinese universities are expected to improve their global rankings to attract more talent.
Several foreign media outlets, including the BBC and The Guardian, have reported on the initiative. Some reports speculate that the bold step will improve Chinese universities' international reputation, while others worry that the new Oxford branch may push Chinese ideology on Western students.
In response to doubts, Hai Wen, head of HSBC Business School, told Southcn.com that the fast development of China's economy and scientific expertise means more and more Chinese universities will reach out to the world.
"Our overseas school will focus on China's finance and enterprise management. Foreign students will have the chance to study Chinese culture, economics and history, as well as to visit various enterprises and financial institutions in China. Such opportunities cannot be found in any other foreign universities," said Hai. Hai also noted that several foreign universities have shown great interest in the new Oxford campus, including Oxford University.
According to the official website of Peking University, the Oxford campus will start enrolling students in 2018, with a focus on recruiting students from the UK and other European countries.