Exciting view from the top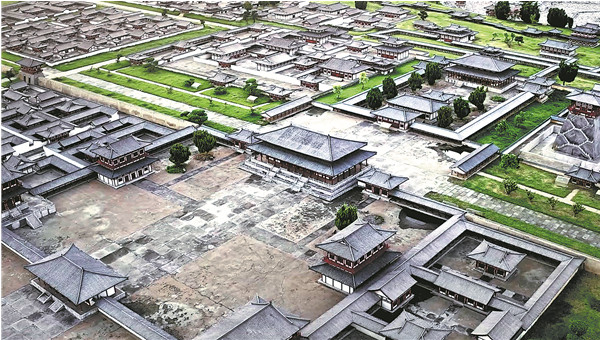 Replicas of Daming Palace, royal palace of the Tang Dynasty (618-907) in Xi'an, Shaanxi province. [Photo provided to China Daily]
A long project
Liang Dong, the show's production manager, says the series is just the first step in a plan to cover all 34 province-level administrative regions in the country in the next five to six years.
Liang says thatAerial China's first season featured four filming crews organized by CCTV, with more than 300 personnel, 16 helicopters and 57 drones, flying over 150,000 kilometers.
Technology from the military to ensure drone stability during filming was also used.
Liang also says that the documentary makers were also helped by the fact that the military allowed the crews to film in many areas, which were earlier not accessible to the general public.
He adds that thanks to the diversity of China's landscape and culture, he is confident about being able to make a big impact by the time the project is complete, citing the example ofAerial America(2010-2016), a documentary made using a approach similar to that being used byAerial China.
"In China, the differences between one province and another are even more obvious when seen from the air," says Liang.
"The audiences will never be bored."
TheAerial Chinaproject was launched in October 2015, and shooting began in March 2016.