What's on in Beijing (Feb 18-24)
Discover the best things to do in Beijing with our weekly roundup of art and exhibitions, music and performances, and popular activities around town.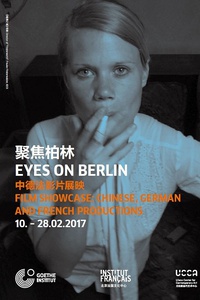 [Photo/goethe.de]
Movies:
Eyes on Berlin
Good news for movie lovers! From Feb 11 to 28, a total of 18 films that were presented at the Berlin International Film Festival are being screened in Beijing, including Black Coal, Thin Ice (2014, China), On My Way (2013, France), Fire at Sea (2016, Italy-France), Finsterworld (2013, Germany) and I Feel Like Disco (2013, Germany).
The event, titled Eyes on Berlin, is being sponsored by the French Institute, the Goethe-Institut China and the Ullens Center for Contemporary Art.
Learn more here.
If you go:
Time: 1-8 pm, through Feb 28
Venue:
Goethe-Institut China, Originality Square, 798 Art Zone, 2 Jiuxianqiao Road, Chaoyang district.
Ullens Center of Contemporary Art, 798 Art Zone, 4 Jiuxianqiao Road, Chaoyang district.
The French Institute, Guangcai International Mansion, 18 Gongti Xilu, Chaoyang district.
Ticket: 20-30 yuan