Internet-celebrity thriller draws fans to theaters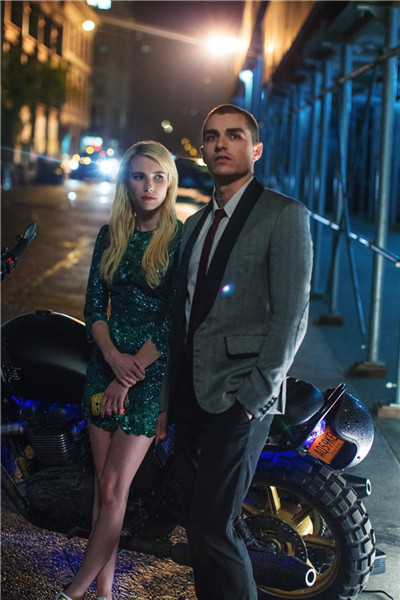 Hollywood's young-adult thriller Nerve, starring actress Emma Roberts and Dave Franco, examines the dark side behind the internet-celebrity craze. [Photo provided to China Daily]
Hollywood's young-adult thriller Nerve does not have Chinese stars or scenes shot in China but it is making waves in China-the world's largest internet market, where half the population is online-thanks to its internet celebrities.
Internet celebrities are ordinary people striving to become online sensations by showing off their talents.
Such celebrities in China have millions of fans, generating huge profits. Some of the most popular reportedly earn more than 300,000 yuan ($43,300) monthly.
This may explain why Nerve, which examines the dark side behind the internet-celebrity craze-has struck a chord with young Chinese, who now form a major part of the theater-going population.
Since it opened on the Chinese mainland on Jan 6-the same day as the tent-pole Rogue One: A Star Wars Story-Nerve has become the second highest-grossing movie among the Hollywood imports currently on the country's big screen.
Directed by Henry Joost and Ariel Schulman-the duo known for the internet-fraud-themed Catfish-the 96-minute film returns to a familiar zone: It examines online violence triggered by the web's anonymous environment.
The film is based on a livestreamed game that gives weird or risky dares to players and cash rewards to the most-watched winners. It begins with tasks such as kissing a stranger or running away from a public place naked.
In the movie, the protagonist, a high-school girl played by American actress Emma Roberts, is dragged into a lethal trap where viewers want to see a win-or-die competition between her and her competitor, played by Dave Franco.
Emma Roberts is the niece of Oscar-winner Julia Roberts, known to Chinese for the 1990 hit Pretty Woman. Dave Franco is the younger brother of actor James Franco, know for the Spider-Man franchise.
Despite the film's popularity, most Chinese viewers reported feeling a bit disappointed with the latter part of the film. While they expected it to take an in-depth look at internet culture and its negative effects, the film's conclusion failed to meet that expectation.
China's most popular review site, Douban.com, gave the film a score of 6.6 points out of 10 based on reviews by nearly 20,000 respondents, which is lower than a Hollywood quality threshold exceeding 7.
"It could have been an influential movie given its novel theme. But the coming-of-age film failed to fulfill its potential," says Douban user "frozenmoon".