Thriller 'The Wasted Times' portrays emotion in difficult times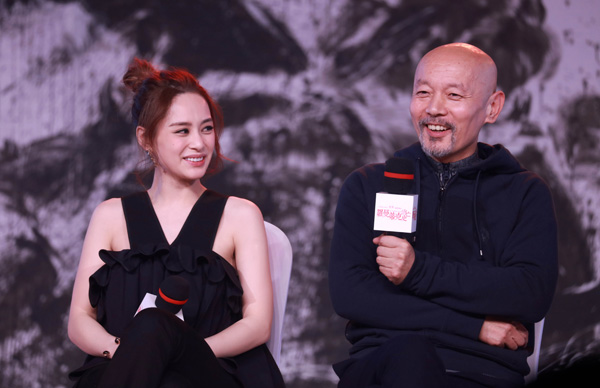 Actor Ge You and actress Gillian Chung attend the press conference of the film The Wasted Times in Beijing, capital of China, Dec 1, 2016. [Photo/Xinhua]
At an event that was anything but a waste of time, the main cast and the director of the movie The Wasted Times met their fans in South China's Guangzhou on Sunday.
The Chinese mainland-Hong Kong co-produced thriller, which stars Ge You, Du Chun, Huo Siyan and Gillian Chung along with award-winning actress Zhang Ziyi and Japanese actor Tadanobu Asano, centers on mafia member Mr. Lu, played by Ge, and events surrounding him as the Japanese forces infiltrate Shanghai.
Veteran actor Ge You, who has always kept a low profile, said at the event that he has become less talkative over the years and prefers to let the viewers be the judge. When asked what's yet to come, he said he would probably only take on supportive roles in the future.
On film and history: No deliberate link
The Wasted Times, which is currently playing in theaters, has stirred heated discussion for its distinctive style. The story has multiple timelines with multi-faceted and overlapping settings, leaving some in awe while others confused.
The director, Cheng Er, said he did not intentionally make the film based on history, but many viewers are associating Mr. Lu with Du Yuesheng, a Shanghai-based secret society leader, banker and industrialist. Ge said he did look into Du's profile but made no deliberate effort to associate his character with Du.
"I just wanted to define him as someone with money and power. It is up to the audiences what they make of it," said Ge.
According to Cheng, much of the film is fiction, "but if you are interested in history, or know enough history, then it is understandable to link it to history. But, even if you are not a history guru, you can still understand the film."
Though not a prolific director, Cheng has his fair share of fans thanks to the grim tones in his works. Cheng, whose works always leave lots of room for imagination, has carried that style forward with The Wasted Times.
"We deleted a very small portion of the film during editing, so it is right that the audiences feel like they haven't seen enough. We are working on a sequel," said Cheng.