Zhang Ziyi and Ge You reunite in 'The Wasted Times'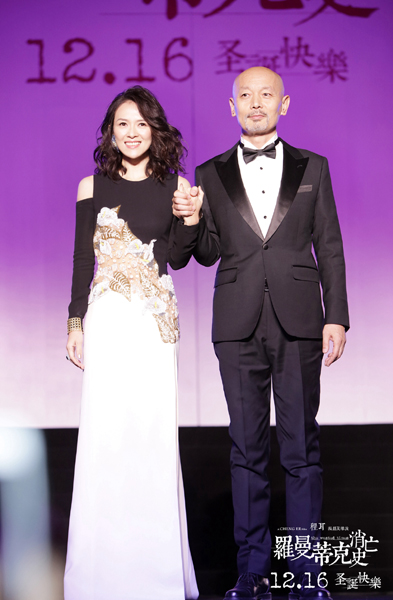 A-list actress Zhang Ziyi (left) and veteran actor Ge You attend an event that celebrates the espionage thriller's premiere in Beijing on Dec 13, 2016. [Photo/CRIENGLISH.com]
A decade after co-starring in the Oscar-nominated blockbuster
The Banquet
, Chinese A-list actress Zhang Ziyi and veteran actor Ge You have reunited in an upcoming espionage thriller,
The Wasted Times
.
The wartime spy story tells the tale of Japanese invaders in the 1930s, and a large part of the dialogue is delivered in Shanghai dialect and Japanese.
At an event to celebrate the movie's premiere on Tuesday evening in Beijing, Ge You, however, said it was a difficult role to play.
"The parts of being with Ziyi are much less than what I'd expected. When I was asked to describe my relationship with Ziyi in the movie, I answered it's a bit morally ambiguous. But I was corrected immediately since they believe the level of the shady side in our ties is a lot more severe than my description."
Ge You's mention of their relationship also prompted Zhang Ziyi to recall a crucial piece of dialogue.
"I pleaded for Ge You to take me away. Thinking carefully, how much I might care about him since it's not easy for a girl to make such a proposal."
The film has been given an English theme song Take Me To Shanghai.
This is similar to Zhang Yimou's huge-budget production The Great Wall, which has an English theme song sung by Jane Zhang.
Both with a star-studded cast, The Wasted Times and The Great Wall go head-to-head with both opening in China on Friday December 16th.