Sheeran releases 2 new tracks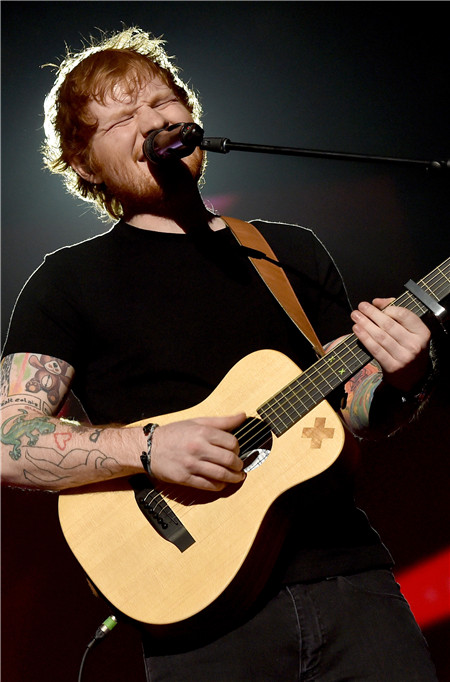 UK singer Ed Sheeran has come back after a two-year hiatus with two songs, which have quickly become hits. [Photo/Agencies]
Words of hard-earned wisdom from Ed Sheeran: "The club isn't the best place to find a lover."
That's how the young British singer-songwriter begins his new song Shape of You, in which he cleverly goes to a bar instead to flirt with a woman whose "love was handmade for somebody like me".
Built on a percussive loop crafted by Steve Mac and Sheeran himself, Shape of You marks the singer's return to music after spending 2016 largely out of view.
Sheeran's absence last year-following the huge success of his 2014 album, X-cleared a lane for the ascent of Canadian singer Shawn Mendes, an avowed Sheeran nut who satisfied many fans' need for an earnest folk-pop guy strumming his pain with his fingers.
Sheeran's retreat from performing also allowed him to do some behind-the-scenes songwriting for Canadian singer Justin Bieber, whose Love Yourself is nominated for song of the year at next month's Grammy Awards.
Now that Sheeran has returned, though, he is gunning to get his place back: Shape of You is one of two new songs he released late on Jan 5, along with Castle on the Hill, a more expansive number coproduced by the singer and Benny Blanco in which Sheeran recounts his adolescence in the English countryside over surging, Coldplay-style pop-rock.
"Fifteen years old, smoking hand-rolled cigarettes/Running from the law through the backfields and getting drunk with my friends," he sings. "Had my first kiss on a Friday night/I don't reckon I did it right."
In a statement, Sheeran says, "I really wanted to show two different sides to my music that I'm equally as passionate about" and he is "absolutely buzzing to be back".