'2016 Enchanting China: Masterpiece of Chinese Music' comes to end in Canada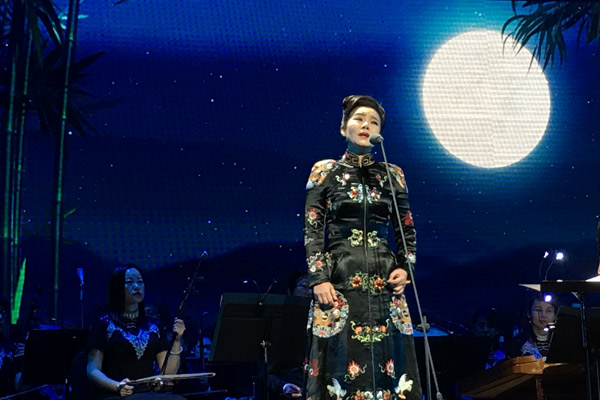 Chinese artist Gong Linna performs the song Little Stream at the music tour. [Photo provided to chinadaily.com.cn]
"2016 Enchanting China: Masterpiece of Chinese Music" concluded its Canada Tour at the Sony Centre for The Performing Arts Toronto on December 3.
More than 70 artists, including Zhang Gaoxiang, director of China Broadcast Traditional Orchestra, and Chinese renowned singer Gong Linna, enthralled the Canadian audiences.
Gong Linna is renowned as the "Queen of Magical Song" for a series of fusion songs that are famous across the country.
During the four-day music tour, Gong performed two masterpieces:Tante, The Mountain Spirit and a folk song of Yunnan province called Little Stream.
According to Gong, she has been researching various vocal skills with an aim to integrating different music forms including folk songs, Chinese opera into her pieces.
"She is amazing. It was the first time that I watched her perform. She brilliantly combines traditional Chinese elements with popular music rhyme. I think she is Sarah Brightman of the East," a Canadian Brian Seed said.
"2016 Enchanting China: Masterpiece of Chinese Music" tour, whose aim was to promote Chinese culture to the world stage, consisted of four chapters: National Custom, Folk Custom, Enchanting Opera and Mutual Dialogue, attracting more than 8,000 visitors.