Chinese Culture Talk brings traditional Chinese music to Miami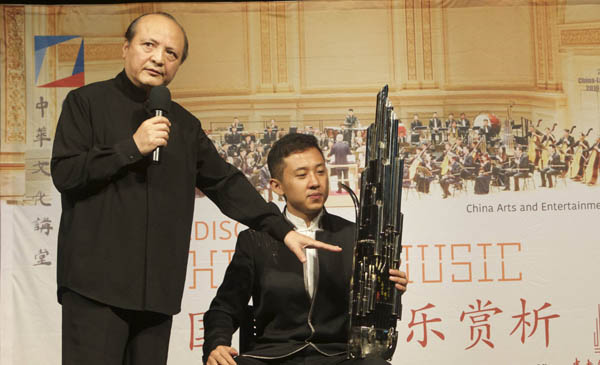 He Jianguo presents a specific kind of Chinese musical instrument onstage. [Photo/Chinaculture.org]
Rediscover Chinese Music, a recent episode of Chinese Culture Talk, was held at Miami Dade College on November 22. Instructor He Jianguo and five of his colleagues from China National Traditional Orchestra spoke and performed for the occasion.
Two video clips, featuring the drama version and the concert version of Chinese music, opened the speech. He Jianguo began his speech by introducing the 8,000-year-old musical instrument "bone flute". He then elaborated on the history and characteristics of other instruments, including suona, pipa, erhu and sheng. When it comes to sheng, He told a relevant and true story dating back to the Warring States Period (BC475- BC221), which had a deep impression on the audience.
Young artists Lin Fuguo, Dong Xiaolin and Bao Longfei performed Birds Adoring the Phoenix, Frontier Song and Ambush from All Sides respectively. Erhu player Jin Yue performed The Moon over a Fountain, followed by the pipa solo Plum Blossom Melody by Ding Xiaokui and the duet Moonlit Night.