Music producer Chen Weilun takes delight in mixing genres
About 14 years ago, trumpet player Chen Weilun came to Beijing and worked for a TV production company. His early works took him to remote parts of the country to record music.
Such travels also helped him to learn about the folk music of the Miao and Dong ethnic groups.
"They sing when they do anything -from farming to quarreling. Even though I couldn't understand the languages, which are ancient, I could feel the energy and the emotions," says Chen.
During the past decade, Chen, 36, has been working as a producer for indie musicians like Zuoxiao Zuzhou and pop icons such as Li Yuchun. Chen also produced soundtracks for movies such as the AIDS-themed feature film, Love For Life, directed by Gu Changwei, and crime thriller, Lethal Hostage, directed by Cheng Er.
So far, he has released five studio albums, including his debut album, The Vague Night, which feature his favorite trip hop sounds.
But Chen's interest in "something old and Chinese" drew him to embark on a bold new direction in his career, to challenge himself musically and creatively by linking traditional Chinese operas and folk music with jazz, electronic and rock, among other contemporary genres.
Labeled as China Music House, or Xin Yue Fu, the project was launched in 2014 and has toured the country with opera performers, players of Chinese traditional instruments, DJs and Western artists. Live shows have been held in Beijing, Shanghai, Nanjing and Suzhou, drawing more than 20,000 people.
On Jan 1, a show will be staged in Hangzhou.
"We made a long list of traditional Chinese operas and folk music that we wanted to give a modern twist to. I selected Kunqu Opera as the first, because it's one of the oldest Chinese operas and I like the slow, mellow sounds of its songs," says Chen of the project's beginning.
But the chemistry between Kunqu Opera, dating back to the Yuan Dynasty (1271-1368), and modern instruments like drum and bass, didn't turn out to be as good an experiment as Chen had expected. The ancient Chinese opera has distinct melodic patterns, structures and rhetoric systems, which took a long time to fit into the mix.
"There were many moments when I was in the studio with the musicians and thought, 'Actually, that doesn't work, let's try something else,'" says Chen.
It wasn't easy to tune the diverse sounds together but he wanted people to get a sense of the process through live acts by the musicians.
Last year, Chen released the first album of the project, which includes his renditions of six pieces of Kunqu Opera such as The Peony Pavilion, by Tang Xianzu (1550-1616), a Ming playwright.
When Chen premiered the show at Beijing's Tango Club last year, more than 1,000 people packed the small venue, which usually holds shows of indie rock bands.
Besides playing the trumpet there, Chen also walked among the crowds whose feedback encouraged him, he says. Online reviews of the show were mixed, with some fans of Chinese operas not happy with the adaption of the traditional art form.
"The feedback made me want to try more. What I want to do now is to get the attention of young people. I hope they can learn more about the old performing arts," says Chen.
Shi Xiaming, 31, who was born in Suzhou and started learning Kunqu Opera at age 14, joined China Music House performances last year. He says Chinese operas face the challenge of attracting young audiences.
"This project helps to link old and new materials in performances," says Shi, an actor of the Jiangsu Kunqu Opera Troupe.
The second album Chen made for the project was mixing pingtan, an old art of storytelling and ballad singing in the Suzhou dialect, with jazz beats. Chen invited Gao Bowen, a well-known Shanghai pingtan artist, to sing with a DJ, guitarist and percussionist.
So far, five albums have been released under the project and another five will come out next year, including a jam session with the oudist and composer from Beirut, Hadi Eldebek, his brother percussionist Mohamad Eldebek, Chinese musicians, hang (percussion instrument) player Shi Lei and Liu Xiaogang, player of the bamboo flute and xiao (a vertical end-blown flute).
For Chen, who was born in Zhangjiakou, in North China's Hebei province, the feeling of music has always been with him since he got a harmonica, his first instrument.
As Chen recalls, his father bought it when he was 5 and he could quickly play a simple song on it. Learning the trumpet at the age of 10, he had his first concert in high school with his rock band.
"I feel a kind of responsibility in offering old Chinese performing arts a platform in the modern world," he says of the project.
chennan@chinadaily.com.cn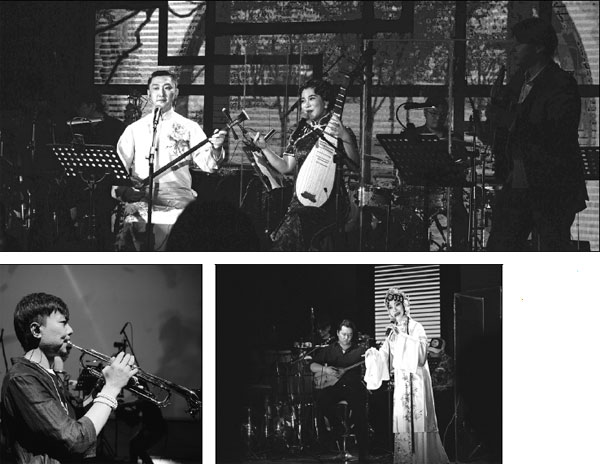 Chen Weilun (left) launches the project China Music House, in which performers of traditonal Chinese operas and folk music share the stage with artists of contemporary music genres.  Photos Provided To China Daily